Images © Ubisoft.

BGAE: A very illustrated Walk-through.
The main story is designed in such a way that you are required to follow this order:
Black Isle - Nutripils factory - Slaughterhouse - Selene.
The mini-games can be played in any order, as soon as they become available in the game.
The order of your travels:
A. Introduction.


| | |
| --- | --- |
| | Hovercraft repair. |

B. Black Isle Mission.


Pedestrian District:

| | |
| --- | --- |
| | Akuda Bar rooms 1+2+3 |
| | 1st visit IRIS |
| | 1st puck game |

C. Nutripils factory mission.


Pedestrian District:

| | |
| --- | --- |
| | 2nd visit IRIS |
| | buy 4 pearls. |

Mammago's garage:

Buy speedcraft motor
(1 pearl)

Mammago's garage:

Buy cannon
(5 pearls)

Mammago's garage:

Buy jump kit
(15 pearls)
D. Slaughterhouse mission.




Pedestrian District:

| | |
| --- | --- |
| | 3rd visit IRIS |
| | 2nd puck game. |
| | 3rd pearl Ming-Tzu |

| | |
| --- | --- |
| | Raise the Beluga |

| | |
| --- | --- |
| | Volcano treasure |

| | |
| --- | --- |
| | Vorax Lair |
| | Transit |
| | Triangle key door |
| | barred door |
| | shed |
| | forbidden channel |
| | Main Canal: crate pearl |
| | 4 races |
| | 4 looter's caves |
| | star key door |

F. Finishing Hillys



Take the space whale picture.
Return to Hillys.
Save game at Mammago's.

Fast game FINIS

Mammago's garage:

Buy flight stabilizer
(20 pearls)

Mammago's garage:

Buy space engine
(30 pearls)

G. On to Selene
You need only 71 pearls to go to Selene and finish the game.
There are 88 pearls in all in the game.

It is not necessary to complete ALL mini-missions to win the game.
You can buy all the necessary vehicle upgrades with about 5 of the mini-missions.

However, once you get to Selene, you will not be able to return.
If you want to complete the mini-games at a later time, back up your saved games.
This walk-through follows the main story line first, and gets to mini-games only towards the end of Hillys.

One of the challenges of the game is of course to get ALL 88 pearls, and ALL 56 pictures.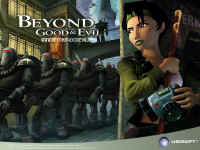 Everything is relative,
especially the value of getting through this game in record time and the ranking you would get from it in the BGAE Darkroom.
Postings in the Darkroom make it obvious that the timer can be hacked, so why would you bother really...
Better to just enjoy the game for what it is.

But in case you do want to challenge yourself, try playing the fast game!

The fast game is essentially different from the way the game is played the first time. The goal is to obtain all 88 pearls and 56 animal pictures in the shortest time possible, to maximize the time bonus when you log in to the BGAE Darkroom.

That means no more exploring, but running and speeding throughout.
Interpret "go" and "walk" in the walkthrough as such.


That means no time to pick up any money, PA1s or any kind of goodies if that means you have to go out of your way to get them. This is not a problem to get through the game. Pictures and fights get you plenty enough credit to buy what you need when you need it.


That means figuring out the most efficient way to get all the animal pictures taken without making double time anywhere.


That means getting by the guards as quickly as possible and with as little fighting as possible, or
when you cannot avoid fighting, get the fighting done in the quickest way possible.


That means learning to play in perfect stretches without any errors, prolonged fights and without getting killed.
Sometimes you may take some damage on purpose, so you can proceed faster.


When you start playing extreme, that will also mean fewer saves throughout the game. Saving your game takes up to 30 seconds, even more if you have to go out of your direct path to get to the save terminal...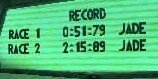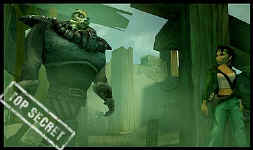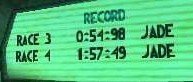 G-2b, playing the fast game.
Page last modified: September 18, 2011

BGAE music: ©2004 - UBISoft Montreal - Christophe Heral
Return to BGAE homepage
Return to my homepage: www.avemariasongs.org