The Children of PROJIMO: P.R.OJ.I.M.O. - Coyotitan
PROJIMO is the Spanish word for "neighborhood."
Programa de Rehabilitacion Organizado por Jovenes Incapacitados de Mexico Occidental
= "Rehabilitation Program Organized by Disabled Youth of Western Mexico".
PROJIMO "The Project" =
The rehabilitation program and its workers.

PROJIMO "The Neighborhood" =

The small community of people who live on the PROJIMO grounds, but who do not necessarily work in "The Project".


e.g. Rosita, one of the co-founders of the program almost 25 years ago, lives in the PROJIMO neighborhood, and works in the PROJIMO project.

My connection to PROJIMO:
I am married to Marielos, one of the (former) workers in the project.

The name "PROJIMO" also refers to another important aspect of the program: Community-Based Rehabilitation (CBR.)

The project does not stand apart from the larger village community, but integrates itself with that community by means of:

community activities where PROJIMO goes out into the community.


How this came to be:
The project in Ajoya that David Werner wrote about no longer exists.

When the PROJIMO project in Ajoya split up in 1999, part of the group moved to Coyotitan.
A 2 ha. plot of land was purchased on the outskirts of Coyotitan, which was then divided in two.
The one side of the property was reserved for "The Project" and its buildings.
The other side was subdivided further, and the project workers at that time were given opportunity
to purchase land to build housing.
This page provides an overview of the people of PROJIMO "The Neighborhood" and their homes.

The Buildings (status mid-2006)
PROJIMO, "The Project": = green side PROJIMO, "The Neighborhood." = yellow side.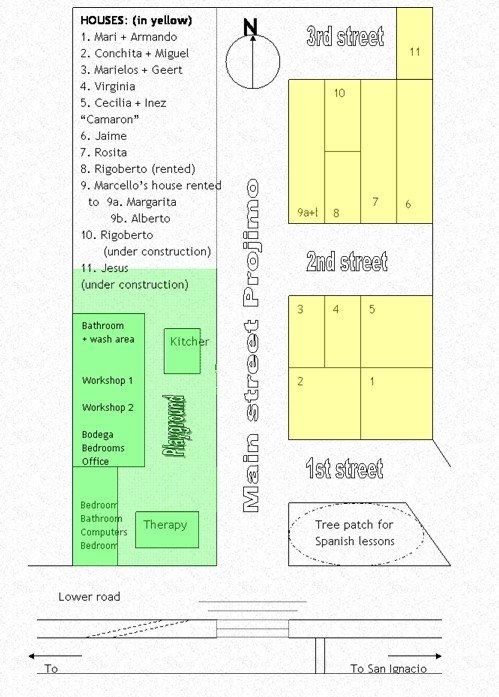 Continue to:

Page last modified: October 27, 2011
Return to PROJIMO home page
Return to my homepage: www.avemariasongs.org