FarmVille - Game Problems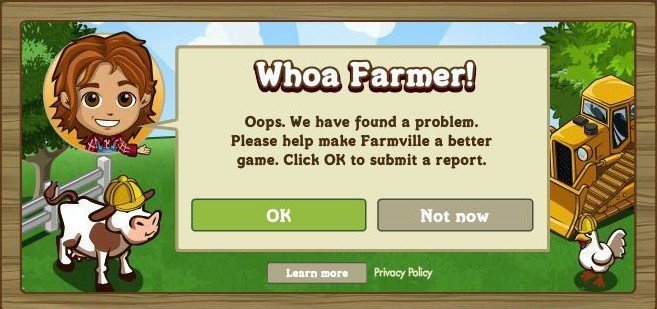 Unfortunately, game problems are many and rather frequent!
I cannot do anything about those problems, so please do not report game problems to me.
Contact Zynga support.

How to contact FarmVille support:
Click on the link "Our social support is live."
Click on the upper right corner link :Need more help"

Click the "email us" link that is now available at the right of the search window to make a report.
Zynga claims you will get a response within 48 hours.

Zynga Customer service will not respond (or only negatively) to the repeated disappearances of FV-cash.
It is my experience that a complaint with the Better Business Bureau may be helpful in that regard.

Some pages are incomplete. This Site is and always will be under construction!

Please notify us of any broken/defective links

Page last modified: October 28, 2012
Return to FarmVille homepage
Return to computer games index page
Return to Geert's Ave Maria homepage