FarmVille - Crops: What to plant?

Introduction:
The seeds for your crops can be found in your Market window.
What you find there looks like this: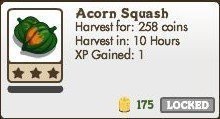 With this limited information, you have to choose and decide from the long list which crop you will plant.
Aaah, decisions, decisions ...
FAQs: What do I plant when ... (for answers, see bottom of this page)
I want to level up as quickly as possible?
I want to get the most possible coins in the shortest time possible?
I have an instagrow potion?
I have this many hours and I'll be away from computer?
I have this many hours and I'll be at the computer the entire time?
Do I plant one crop for the entire time, or do I plant several shorter growing crops"

1. How do you decide which crops to plant?
What you can plant depends on when you can get back to your computer.
Don't plant something if you can't be back before it withers on you.
If you're at your computer all day/night and have nothing better to do, repeated short-time crops help you advance quicker.
The mid-range crops are ideal to get across your sleepy time.
The shortest growth-time you'd want for that is about half your normal rest-period.
Away for a while? Choose the long-growing crops.
A 4-day crop gives you 10 days before they start withering.
Away even longer?
Don't plant anything at all unless you have an unwither potion or are willing spend farm cash to unwither.
Alternatively, you can get the FarmVille app for your cell phone that allows you to tend your farm even when away from home...
Other than that, the choice is entirely up to you.
| | |
| --- | --- |
| | You farm for your enjoyment. |
| | You do as you please, |
| | Try out everything at least once, if only to ... |
| | Enjoy the many changing views and colors as your crop grows and matures. |
BUT ...


2. An informed crop choice can help you advance quicker in the game.
Experience points help you level up.
Farm Coins are required to purchase buildings and other helpful items.
So, especially as a beginning farmer, you may want to chose those crops that give you the best possible outcome.
Crops cost/benefit analysis:
To calculate the yield of a crop, you need to take the entire crop cycle into account.
| | |
| --- | --- |
| | Plowing gives you 1XP, but costs you 15 coins. |
| | Planting gives you the XP shown in the Market listing, but the seeds cost you coins. |
| | Harvesting gets you the coins shown in the Market listing + 1 Master point (MP) or Experience point (XP) |
| | Fertilizing adds one XP per fertilized plot during harvesting. |
| | Bushel boosting can add an additional +1MP or +1XP to the harvesting yield. (before/after mastering the crop) |
| | |
| --- | --- |
| | Growing Time can be important ! |
Example: Raspberries vs. Strawberries?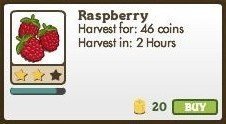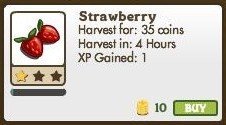 (all values on this page as per 2011/11/22)

At first glance, you might think your choice would depend on whether coins or experience are more important at that moment. 46-20 = 26 coins + 0 XP vs. 35-10 = 25 coins + 1 XP ?
Wrong!

You can grow 2 crops of Raspberries in the same time as 1 crop of Strawberries.

[(46 harvest - 20 seed price - 15 plowing) + 1 XP plowing + 1MP/XP harvest ] x 2 crops
= 22 coins + 2XP + 2MP/XP in 4 hours vs.
(35 harvest - 10 seed - 15 plowing) + 1XP plowing + 1XP crop.
= 20 coins + 2XP + 1MP/XP in 4 hours

Apart from the fact that you have to do twice as many clicking to grow 2 crops of Raspberries in the same time as 1 crop of strawberries, the advantage is clearly with Raspberries: 2 extra coins per plot, equal experience, and double the master or extra experience points.

If you fertilize the crop (+1XP) or if you use a bushel boost, (+1MP/XP), the advantage shifts even more to Raspberries.


3. The crops:
Crop listing (home farm, from the market listing, sorted A-Z, end 2011)
MARKET
MARKET
MARKET
PLOWED
BOOSTED
OR
FERTILIZED
BOOSTED
AND
FERTILIZED
icon
name
harvest revenue
seed
cost
plowing cost
1-Crop YIELD
growing time
yield
/Hr
1-crop
XP
1-crop
XP+1XP
growing time
relative XP/Hr
1-crop
XP+2XP
growing time
relative XP/Hr
1-crop
XP+3XP
growing time
relative XP/Hr
1
Acorn squash
258
-175
-15
68
10
6.80
1.00
2.00
10
0.20
3.00
10
0.30
4.00
10
0.40
2
Aloe Vera
85
-50
-15
20
6
3.33
1.00
2.00
6
0.33
3.00
6
0.50
4.00
6
0.67
3
Super Aloe
90
-50
-15
25
6
4.17
1.00
2.00
6
0.33
3.00
6
0.50
4.00
6
0.67
4
Amaranth
350
-220
-15
115
16
7.19
2.00
3.00
16
0.19
4.00
16
0.25
5.00
16
0.31
5
Artichoke
204
-70
-15
119
96
1.24
2.00
3.00
96
0.03
4.00
96
0.04
5.00
96
0.05
6
Asparagus
357
-220
-15
122
16
7.63
2.00
3.00
16
0.19
4.00
16
0.25
5.00
16
0.31
7
Bamboo
550
-420
-15
115
16
7.19
2.00
3.00
16
0.19
4.00
16
0.25
5.00
16
0.31
8
Basil
400
-300
-15
85
10
8.50
1.00
2.00
10
0.20
3.00
10
0.30
4.00
10
0.40
9
Bell Pepper
198
-75
-15
108
48
2.25
2.00
3.00
48
0.06
4.00
48
0.08
5.00
48
0.10
10
Black Berry
117
-75
-15
27
4
6.75
1.00
2.00
4
0.50
3.00
4
0.75
4.00
4
1.00
11
Super Black Berry
125
-75
-15
35
4
8.75
1.00
2.00
4
0.50
3.00
4
0.75
4.00
4
1.00
12
Blueberry
91
-50
-15
26
4
6.50
1.00
2.00
4
0.50
3.00
4
0.75
4.00
4
1.00
13
Super Blueberry
100
-50
-15
35
4
8.75
1.00
2.00
4
0.50
3.00
4
0.75
4.00
4
1.00
14
Broccoli
473
-200
-15
258
48
5.38
2.00
3.00
48
0.06
4.00
48
0.08
5.00
48
0.10
15
Cabbage
388
-140
-15
233
48
4.85
2.00
3.00
48
0.06
4.00
48
0.08
5.00
48
0.10
16
Super Cabbage
390
-140
-15
235
48
4.90
5.00
6.00
48
0.13
7.00
48
0.15
8.00
48
0.17
17
Carnival Squash
435
-355
-15
65
8
8.13
1.00
2.00
8
0.25
3.00
8
0.38
4.00
8
0.50
18
Carrot
200
-110
-15
75
12
6.25
1.00
2.00
12
0.17
3.00
12
0.25
4.00
12
0.33
19
Chardonnay
315
-200
-15
100
10
10.00
2.00
3.00
10
0.30
4.00
10
0.40
5.00
10
0.50
20
Chickpea
210
-80
-15
115
20
5.75
2.00
3.00
20
0.15
4.00
20
0.20
5.00
20
0.25
21
Clover
368
-325
-15
28
4
7.00
1.00
2.00
4
0.50
3.00
4
0.75
4.00
4
1.00
22
Coffee
243
-120
-15
108
16
6.75
1.00
2.00
16
0.13
3.00
16
0.19
4.00
16
0.25
23
Columbine
380
-340
-15
25
4
6.25
1.00
2.00
4
0.50
3.00
4
0.75
4.00
4
1.00
24
Corn
380
-150
-15
215
72
2.99
2.00
3.00
72
0.04
4.00
72
0.06
5.00
72
0.07
25
Cotton
207
-75
-15
117
12
9.75
2.00
3.00
12
0.25
4.00
12
0.33
5.00
12
0.42
26
Super Cotton
207
-75
-15
117
12
9.75
3.00
4.00
12
0.33
5.00
12
0.42
6.00
12
0.50
27
Cranberry
98
-55
-15
28
10
2.80
1.00
2.00
10
0.20
3.00
10
0.30
4.00
10
0.40
28
Super Cranberry
98
-55
-15
28
10
2.80
2.00
3.00
10
0.30
4.00
10
0.40
5.00
10
0.50
29
Cucumber
450
-290
-15
145
24
6.04
2.00
3.00
24
0.13
4.00
24
0.17
5.00
24
0.21
30
Daffodil
135
-60
-15
60
48
1.25
2.00
3.00
48
0.06
4.00
48
0.08
5.00
48
0.10
31
Double Grain
167
-58
-15
94
12
7.83
2.00
3.00
12
0.25
4.00
12
0.33
5.00
12
0.42
32
Eggplant
88
-25
-15
48
48
1.00
2.00
3.00
48
0.06
4.00
48
0.08
5.00
48
0.10
33
Elderberry
270
-195
-15
60
12
5.00
2.00
3.00
12
0.25
4.00
12
0.33
5.00
12
0.42
34
Electric Lily
1111
-950
-15
146
24
6.08
4.00
5.00
24
0.21
6.00
24
0.25
7.00
24
0.29
35
Fire Pepper
302
-150
-15
137
12
11.42
3.00
4.00
12
0.33
5.00
12
0.42
6.00
12
0.50
36
Forget-me-not
900
-725
-15
160
18
8.89
2.00
3.00
18
0.17
4.00
18
0.22
5.00
18
0.28
37
Ghost Chili
136
-80
-15
41
6
6.83
1.00
2.00
6
0.33
3.00
6
0.50
4.00
6
0.67
38
Ginger
320
-170
-15
135
18
7.50
2.00
3.00
18
0.17
4.00
18
0.22
5.00
18
0.28
39
Gladiolus
260
-200
-15
45
6
7.50
1.00
2.00
6
0.33
3.00
6
0.50
4.00
6
0.67
40
Golden Poppy
130
-50
-15
65
24
2.71
2.00
3.00
24
0.13
4.00
24
0.17
5.00
24
0.21
41
Grape
270
-85
-15
170
24
7.08
2.00
3.00
24
0.13
4.00
24
0.17
5.00
24
0.21
42
Super Grape
270
-85
-15
170
24
7.08
4.00
5.00
24
0.21
6.00
24
0.25
7.00
24
0.29
43
Green Tea
191
-105
-15
71
10
7.10
1.00
2.00
10
0.20
3.00
10
0.30
4.00
10
0.40
44
Heirloom Carrot
210
-110
-15
85
12
7.08
1.00
2.00
12
0.17
3.00
12
0.25
4.00
12
0.33
45
Iris
520
-400
-15
105
24
4.38
2.00
3.00
24
0.13
4.00
24
0.17
5.00
24
0.21
46
Jalapeno
130
-80
-15
35
8
4.38
1.00
2.00
8
0.25
3.00
8
0.38
4.00
8
0.50
47
Lavender
384
-160
-15
209
48
4.35
2.00
3.00
48
0.06
4.00
48
0.08
5.00
48
0.10
48
Leek
220
-95
-15
110
16
6.88
2.00
3.00
16
0.19
4.00
16
0.25
5.00
16
0.31
49
Lemon Balm
290
-230
-15
45
6
7.50
1.00
2.00
6
0.33
3.00
6
0.50
4.00
6
0.67
50
Lilac
75
-35
-15
25
10
2.50
1.00
2.00
10
0.20
3.00
10
0.30
4.00
10
0.40
51
Lilac Daffy
220
-85
-15
120
16
7.50
3.00
4.00
16
0.25
5.00
16
0.31
6.00
16
0.38
52
Lily
369
-195
-15
159
24
6.63
2.00
3.00
24
0.13
4.00
24
0.17
5.00
24
0.21
53
Long Onion
505
-255
-15
235
12
19.58
3.00
4.00
12
0.33
5.00
12
0.42
6.00
12
0.50
54
Morning Glory
123
-60
-15
48
12
4.00
1.00
2.00
12
0.17
3.00
12
0.25
4.00
12
0.33
55
Super Morning
150
-60
-15
75
12
6.25
2.00
3.00
12
0.25
4.00
12
0.33
5.00
12
0.42
56
Oats
310
-225
-15
70
8
8.75
1.00
2.00
8
0.25
3.00
8
0.38
4.00
8
0.50
57
Onion
275
-170
-15
90
12
7.50
1.00
2.00
12
0.17
3.00
12
0.25
4.00
12
0.33
58
Orange Daisy
590
-410
-15
165
24
6.88
2.00
3.00
24
0.13
4.00
24
0.17
5.00
24
0.21
59
Pattypan Squash
160
-65
-15
80
16
5.00
1.00
2.00
16
0.13
3.00
16
0.19
4.00
16
0.25
60
Super Pattypan
180
-65
-15
100
16
6.25
3.00
4.00
16
0.25
5.00
16
0.31
6.00
16
0.38
61
Pea
381
-190
-15
176
24
7.33
3.00
4.00
24
0.17
5.00
24
0.21
6.00
24
0.25
62
Super Pea
381
-190
-15
176
24
7.33
5.00
6.00
24
0.25
7.00
24
0.29
8.00
24
0.33
63
Peanut
78
-20
-15
43
16
2.69
1.00
2.00
16
0.13
3.00
16
0.19
4.00
16
0.25
64
Super Peanut
90
-20
-15
55
16
3.44
3.00
4.00
16
0.25
5.00
16
0.31
6.00
16
0.38
65
Pepper
162
-70
-15
77
24
3.21
2.00
3.00
24
0.13
4.00
24
0.17
5.00
24
0.21
66
Super Pepper
162
-70
-15
77
24
3.21
4.00
5.00
24
0.21
6.00
24
0.25
7.00
24
0.29
67
Peppermint
150
-50
-15
85
24
3.54
1.00
2.00
24
0.08
3.00
24
0.13
4.00
24
0.17
68
Pineapple
242
-95
-15
132
48
2.75
2.00
3.00
48
0.06
4.00
48
0.08
5.00
48
0.10
69
Super Pineapple
242
-95