FarmVille - Animals

Recommendation: Specialize your farms.
Animals (and trees) are not really something for the beginning farmer to concentrate on.

| | |
| --- | --- |
| | The animals and trees you get for free do not provide any XP. They are kinda cute though ... |
| | Purchasing an animal or tree from the market gives you a ONE-TIME XP as listed. |
| | Harvesting an animal or tree does not usually give XP, so that will not help you to level up. |

Maximize your home farm for crop production. You have many more plots there.
Crop farming is a better use of space for the beginning farmer as it will advance your game much faster.

Do not put up animal or trees in home farm.
Keep your animals in your gift box until you have access to a second farm.

Use Lighthouse Cove farm for your animals and trees.
Your farming plots are very limited there, so crop farming will be less important there.

For the beginning farmer, quantity would be more important than quality.
Collect all animals you can get from the feeds and place them on your 2nd farm for coin generation.
These coins will help you expand your farms and your crafting buildings more quickly.
Use farmhands for 1-click harvesting of all free-roaming animals. ( = outside animal storage buildings)

When you start getting crowded for space, start thinking quality instead of quantity.
Discard low-yield items and keep the higher-yield items to get higher yields for the same space.

Animals available in your Market for FV coins.


DO NOT BUY ANIMALS, especially not these low-yield animals shown here.
You can request and receive them as free gifts.
If you follow the feeds, you'll be able to pick up more than you care to have.

There are many more animals available in the game.
Most other animals you'll eventually be able to pick up from the feeds from sharing and/or mystery babies.

Animal buildings:
| | |
| --- | --- |
| | can hold up to 40 animals (May 2012: 60 animals; October 2012: cow pasture: 80) |
| | usually the footprint of the building is less than for the free-roaming animals. |

WARNING: Nursery barn = an udderly useless building!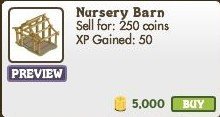 You can receive fancy foals from fancy horses in the horse paddock or from the feeds.
You can receive fancy calves from fancy cows in the cow pasture or from the feeds.
Do NOT put these fantasy babies in the nursery barn.

All you will ever get from the nursery barn is common cows and horses that you can easily get from the feeds as well!
These common cow and horse adults take up more space than the fancy babies and usually provide less revenue per space per time than the fancy babies. Converting fantasy babies in the nursery barn into common cow and horse adults is a downgrade in both revenue and cuteness factor. So why bother?

The only way Zynga allows fancy calves and foals to "grow up" true is if you pay FV-cash.
You will be able to get babies from them, but again, those babies will not grow up unless you pay more FV-cash.

This Zynga policy makes the nursery barn udderly useless. You can't get anything useful from it and 40 calves placed on your farm take up less space than the nursery building. Building a nursery barn is a waste of your coins, time and effort.

The baby playpen (released Febr. 2012) is much more useful.


Calves or foals?

Calves and foals both harvest daily for 80 coins.
A foal takes up 4x as much space as a calf. You can place 100 calves in the same space as 25 foals.
Because you can place 4x more calves, a space packed with calves will give a 4x better yield than the same space packed with foals. (3.33 coins/hour vs. 0.83 coins/hour per dotspace)

update February 2012: the baby playpen.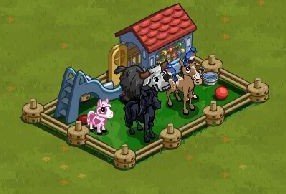 Zynga introduced baby animal mastery and the baby playpen.
The baby playpen houses up to 40 baby animals in a 6x8 area = 48 dotspaces, regardless of their individual footprint.
(May 2012: 60 baby animals)

This building reduces the yield/space for calves slightly (40/48) compared to free-roaming so don't use it for calves.
It does increase the yield of foals significantly (160/48 = 3.33 times) to make it more similar to calves.

The baby playpen harvests daily, regardless of the animals inside, so that will further increase the yield of those baby animals that have longer harvest times. Very useful if you are interested in those mastery stars...


Calves or trees?
Calves and trees take up the same space = 1 dot-space.
Calves give the highest yield/time/space (3.33 coins/hour/dotspace) for free-roaming animals that are accessible to the beginning player.

That is almost double of the max crop yield (straspberries after mastery) = 28.00 coins/hr/crop plot with 16 dotspaces/crop plot = 1.75 coins/hour/dotspace. Of course, crops also give you XP which you need to level up and cannot get from calves or trees.

Calves are fairly easy to get from the feeds.
Early on, calves will give a higher coin yield per space per time than most trees.

A tree will need to yield at least 160 coins per harvest (= every 2 days) to produce a higher yield than calves.
| | |
| --- | --- |
| | Calves take up the same space as a tree = 1 dot-space. |
| | Calves harvest every day vs. trees harvest every 2 days in orchards. |
| | Many trees take longer if not in orchard (up to 5 days) |
There are trees that give higher yields than calves, so eventually you might want to switch to the high-yield trees.
see: THIS PAGE for more information on tree yields.

High-yield animals are a different breed.

You must reach a specific level before you can purchase these animals.

Stock your pig pen with 40 saddleback pigs (level 35) and your livestock pen with Arapawa goats (level 55)
You'll harvest 40-48,000 coins every other day from those buildings.

You'll receive the listed XP ONLY ONCE at the time of purchase.
Harvesting these (or other) animals only gives you coins, not XP.

The saddleback pig will take 300 harvests = 600 days to pay for itself, the Arapawa goat 834 days.

yield saddlebacks in pig pen = 40,000 coins / 24 hours / 42 dotspaces= 39.68 coins / hour/ dotspace.
yield Arapawa goats in livestock pen = 48,000 coins / 24 hours / 48 dotspaces = 41.67 coins / hour / dotspace.


BELTED COW
Stock the cow pasture with 40 belted cows (level 75) and you'll harvest 120,000 coins from that cow pasture every day!
The cow pasture measures only 6x8 = 48 dotspaces.
This is the same space as 12 cows (@ 4 dotspaces each) would take if placed on the farm.
==> YIELD of 40 belted cows in cow pasture: 120,000 coins/24 hours/48 dotspaces = 104.17 coins/hr/dotspace.
This is by far the largest yield/hr/space in the game to date.
According to THIS PAGE the number of cow pastures on a farm is not limited, so you can build as many as you want.
Why bother with lesser animals then?

You will get belted calves, but again, they will not grow up into belted cows if you put those in the nursery barn.
After purchase, the belted cow takes 333 1/3 days to pay for itself.
Update July 2012:
Zynga has increased the animal building capacity to 60 animals.
That increases the yield of a cow pasture to 180,000 FV-coins daily or 156.26 coins/hr/dotspace.

update October 2012:
up to 80 belted cows in a cow pasture = 240,000 coins daily.

So is it really worth the trouble and the cost ???

Once you have maxed out on the farm size and upgraded all craft buildings, there isn't really much to do with coins.
FV-coins will start piling up so quickly that you won't know what to do with them.

More advanced players frequently convert coins into experience points by buying things.
This helps to level up much faster than you can by crop farming alone.
e.g. Buy 10 belted cows for 10,000,000 coins = 100,000XP = 1 instant level-up above level 100.


Also, the cow pasture with belted cows gives the highest yield/time/space in the game, so it would be the best coin-generator for the more advanced player.
(update July 2012: the aquarium / swimming pool with blue whales surpasses the cow pasture yield significantly.

Hawaii update March 2012:
The Blue whale now surpasses the belted cow with 5,000 coins + 4250 coconuts per harvest! (= daily in aquarium)

An aquarium with 40 blue whales will yield:
200,000 coins/24 hours/48 dotspaces = 173.61 coins/hr/dotspace PLUS 147.57 coconuts/hr/dotspace.
So an aquarium with blue whales is seriously better than a pasture with belted cows for the steady daily harvest yield.

Disadvantages:

The XP on purchase for the blue whale is only a measly 630 XP.
It won't do you any good for leveling up.
It takes 500,000 coconuts to buy one blue whale. It takes a while to collect that many.
You can place aquariums only in Hawaii, and the water space is limited ...

update July 2012:

60 blue whales per aquarium = 300,000 coins/24 hours/48 dotspaces PLUS 255,000 coconuts/24 hours/48 dotspaces.
= 260.42 coins/hr/dotspace PLUS 221.36 coconuts/hr/dotspace.

The swimming pond (released July 2012) is the land equivalent of the aquarium and can be placed on land in all farms.

You can buy the blue whale from the market only in Hawaii.
Place swimming ponds in Hawaii, fill them with blue whales. Place the babies ON LAND and feed the swimming pond babies to get the blue whale in your gift box. That allows you to bring the blue whale to the other farms.

problem: How do I get rid of the blue tang fish that comes with the swimming pond?
answer: Look inside the swimming pond and remove the blue tang fish.
You cannot place it on a land farm, but you can store it in your storage building and sell it from there.

Getting higher yields with aviary eggs.
The aviary measures 6x8 = 48 dotspaces and harvests daily.
The direct harvest value of birds in the aviary is negligible compared to a belted cow in a cow pasture.
However, In addition to harvest value, aviary birds also give eggs (about 50% for a full aviary).
The sale value of these birds can be so high that it increases the value of the aviary well beyond the direct harvest value!
| | |
| --- | --- |
| | Pheasant sells for 100,000 coins |
| | Cattle Egret sells for 50,000 coins |
| | Christmas goose and blue-winged goose sell for 45,000 coins. |
100,000 coins/48 dotspaces/24 hours x 50% = 43.04 coins / hour / dotspace. = similar to Arapawa goats.


Cute, but otherwise of little use for game advancement.

Any reason for the enormous difference in coin cost between these two?
It isn't even the right color for a border collie...

Some pages are incomplete. This Site is and always will be under construction!

Please notify us of any broken/defective links

Page last modified: November 16, 2012
Return to FarmVille homepage
Return to computer games index page
Return to Geert's Ave Maria homepage