Nearly all (98%) of commercial corn production is GMO nowadays. If you buy it, you are choosing to eat poison. And that poison is in every cereal product on store shelves nowadays, including baby foods.
growing heirloom corn
2014-2015
Growing heirloom corn can be fun to try. However, if there are any commercial corn = GMO fields nearby, your little patch will likely be the only safe-haven organic banquet for every bug in the neighborhood. I tried it in 2014. Of the few hundred corn plants, I only had a handful of ears that were relatively wholesome. All the rest was infested
Corn has separate male and female flowers. The male flowers form a pollen plume at the top of the stalk. The female flowers are located lower on the plant. Pollination happens by wind. Plant corn in a square plot, or in a rectangular plot with the longer side in the prevailing wind direction. Planting corn in a narrow plot perpendicular to the wind or in a container will result in poor pollination and incomplete ears.

Pic1: onions, young corn and squash plants 2015-05-29
Pic2: corn bugs 2014-07-17
Pic3: corn cobs 2014-07-21

Pic4: glass gem corn
Pic5: Tom Thumb = popcorn
Pic6: multi-colored heirloom varieties

Pic7: Bantam gold
Pic8: Aztec black
Pic9: Oaxacan green
---
the three sisters method
2014-2015
Corn, squash and beans are called the 3 sisters. According to (contemporary?) legends, the native Americans planted those 3 crops together as companion plants. The reasoning behind this is sensible. The corn gives the beans something to climb on. The beans give the corn the nitrogen it needs to grow. The squash ground cover keeps moisture in the ground and prevents weeds from growing.
Yet, the contemporary native American farmers I have observed don't use this method. Navajo corn fields in Canyon the Chelly and in the Grand Canyon area use dry-farming techniques for corn only and they plant ancient drought-tolerant flour-corn varieties that are very different from the contemporary commercial corn varieties. (see Pic10-12 below)

Pic10: blue corn in planting hole
Pic11: young corn plants
Pic12: canyon farming
Scarlet runner beans and the ancient native melon/gourd varieties were also a lot more drought-tolerant than modern varieties. I'm thinking specifically of the buffalo melon aka stinking gourd that grows wild in the area, which can cover vast patches with no extra watering at all. The older native American cultivars were a lot closer to that wild melon than the modern varieties are.
The modern beans and squash require a lot of water to grow properly. They wouldn't do well in a dry-culture environment. I don't have any problems with water shortage. I can irrigate as much as I like. I don't need to limit myself to dry-culture. Yet, there are many other problems with the 3-sister system in the NM desert environment where I live.
The wind and dust storms are the real problem here for small patches of corn. We get these near-hurricane-force dust storms that can go on for days on end. Young corn plants don't do very well in such weather and I've had to replant a few times. Native Americans plant shorter and hardier varieties together in tight bunches 3 to 6 ft. apart from each other. Those seem to survive the high-wind conditions better than row-planted modern varieties.
Modern pole beans have become such vigorous growers that can easily climb and run 10-15 ft. They would choke corn completely if that is the only thing they have to climb on. The beans do a lot better with a pole framework or trellis so they can grow to their full potential between, over and above the corn.
Zucchinis might not be the best partners in this scheme. They become huge plants in time, but they don't spread very much. They also develop much too late in the season to benefit young corn.
The various melon varieties that I have planted seem to be a much better choice. They provide a dense ground cover that is nonetheless not overly high and bulky like zucchinis. The problem with melons is that if given a chance, they prefer climbing instead of spreading. They are good cover, but if not kept in check, they will run up the poles, crowd out the beans and the developing fruits are so heavy that they would break the corn stalks.
Last but not least, the 3 varieties need to be seasonally compatible, i.e. grow at similar rates and develop simultaneously, e.g. pumpkins a.o. winter squash develop too late in the season to be useful for this.
In conclusion:
While the idea of 3-sister planting is sound, it is not something that can be done with contemporary varieties and desert dry-farming techniques. The modern beans and squash need a lot more water than that.
The corn variety needs to be low-growing high-wind resistant for the NM desert environment.
Pole beans need to be provided with an additional support system that reaches to at least 8 ft. high.
A variety of melons could provide a complete ground cover.
In 2015 I did try the 3-sisters method by planting corn, squash and beans together. (Pic1) Unfortunately, my garden was completely razed by a tornado in July and I never got to see the final results.
This is what you need:
heirloom corn seeds
beans
squash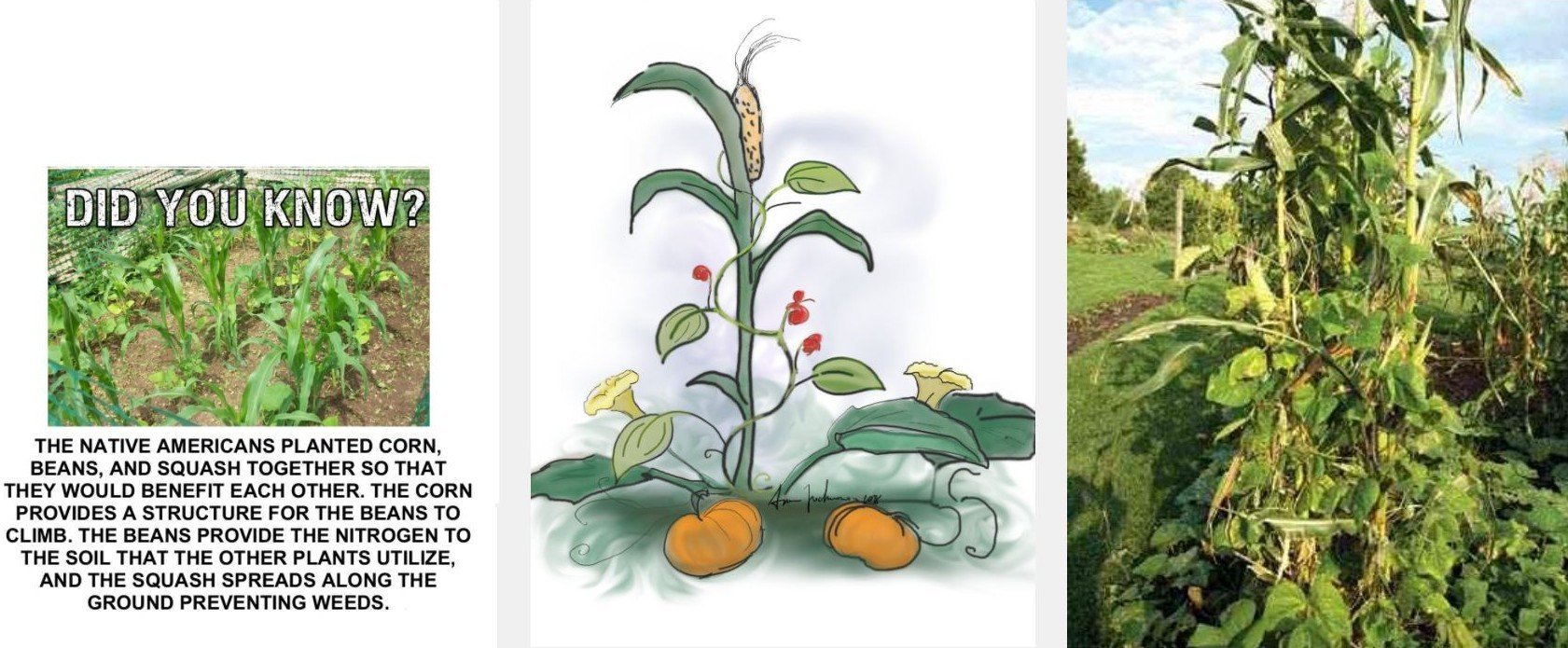 Pic13-15: the three sisters (legend?)

Directions for the 3-sisters method
large garden: at least 30 ft. by 30 ft.
Plant 12-15 corn seeds close together at each cross-point in a 6 ft. x 6-ft. pattern.
The corn will grow in tight patches that will leave enough space to walk between them.
Set up poles and/or string lines close to corn in rows in the prevailing wind direction.
Don't put them perpendicular to the prevailing wind direction. They will catch more wind and if they survive, they will become a windscreen that prevents corn pollination.
Plant 3-6 beans at each pole or string line, so they can climb up right away.
They can climb on the corn, but must have a way to go higher or they will suffocate the corn.
Plant 5-6 melon seeds together every 6 ft. between corn lines.
Those will need to be thinned to 1 or 2 plants after they come up. Keep the melons away from the poles.
Water regularly. Keep the soil moist but not wet until the plants are well established.
---
raw corn / corn on the cob
2014
So you planted the corn and were successful in keeping them relatively pest-free.
Young underdeveloped ears are soft and sweet and can be eaten raw in salads, but are imo a bit of a waste of the later harvest. Some heirloom corn varieties like golden bantam can also be eaten raw when fresh off the plant. They are deliciously sweet.
Peel the leaves away after harvesting the ears to dry the ears quicker and prevent mold formation.
Reserve the leaves and dry them for tamales.
The kernels in drying corn cobs harden gradually until you can break your teeth on them. Cooking the cob whole in water or milk rehydrates and softens the kernels enough that you can eat them right off the cob again, or cut the kernels to use them in other dishes.
See: pepperjack cheese corn
, cream of corn soup
Rubbing or beating cobs together is the traditional method of shucking the kernels.

Pop the dry kernels by heating them dry or with some butter.
Boil them until soft for soups a.o. corn dishes.
Dried corn can be ground into flour to make tortillas a.o. corn bread recipes.
Corn can also be treated with alkaline solutions to make hominy, which is used in menudo and posole.
The flour of nixtamalized corn is used to make masa for tamales, corn tortillas a.o. dishes.
Masa nixtamalera can be cooked with water and milk to make a thick, gruel-like beverage called atole.

When made with chocolate and sugar, it becomes atole de chocolate.
Adding anise and piloncillo to this mix creates champurrado, a popular breakfast drink.
---
corn smut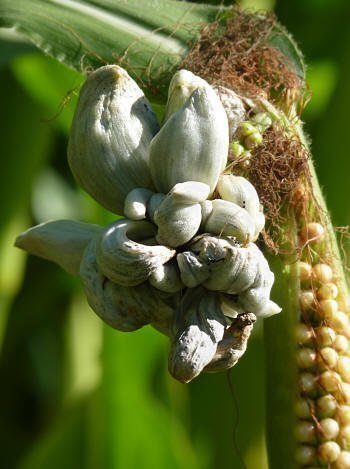 Corn smut is a plant disease caused by the pathogenic fungus Ustilago maydis that causes smut on maize and teosinte. The fungus forms galls on all above-ground parts of corn species.
It is edible, and is known in Mexico as the delicacy huitlacoche, which is eaten, usually as a filling, in quesadillas and other tortilla-based foods, and soups. In the US it is usually considered a plague and eradicated.