2013 experiment

Pic2-4: hanging tomatoes
This was an experiment that looks cool but is imo not worth the trouble here in the NM desert.
Possibly this would work better in more temperate areas.
The tomato plants survived, but didn't produce much.
I gave up after 2 years. The plastic bags started rotting by then anyway.
2013 1st year outside garden

Pic5: 2013-09-10 — ne row of tomatoes
Pic6: 2013-09-30 — medium-sized tomatoes
Pic7: 2013-10-14 — my 2013 final harvest
In 2013, I planted a single row of tomatoes in the backyard garden.
I had enough production to start canning.
2014: 2nd year outside garden

Pic8: 2014-07-09
Pic9+10: 2014-09-24

In 2014 I was getting better organized. I made a framework with T-posts and hog fence to 6 ft. heigh.
I planted about 50 store-bought 'better boy' tomato plants.
There were at least 4 different tomato types in that batch.
Every other row, I planted jalapeno peppers.
They were labeled as bell peppers in the store. All were jalapenos.
About half of the tomato plants died from wilting disease within a month.
I recovered those empty spaces by taking cuttings from the plants that survived.
At 6 ft row distance, the tomatoes grew to leave just enough spacing to walk between to water, prune and harvest.
The companion planting with the peppers worked extremely well.
I harvested at least two 5-gallon buckets with jalapenos every week for about 2 months.
2014: bumper crop

Pic11: 2014-11-05 — final harvest grape tomatoes
Pic12: 2014-11-05 — final harvest larger tomatoes.

The grape tomatoes (I didn't buy any!) were the best producers throughout the Summer.
The other two varieties (a round medium and a beefsteak) caught up late Summer and ended with a bumper crop.
I had 2 carts full of the green medium-sized tomatoes. They ripened off the vine very well.
I canned about 150 quarts of tomatoes that year.
tomato cuttings

Pic14+15: tomato cuttings in water
Pic16: tomatoes a.o. cuttings / seedlings
I multiplied disease-resistant varieties by taking cuttings from the suckers.
When they formed roots, I planted them in pots to let them grow further before planting them.
3 methods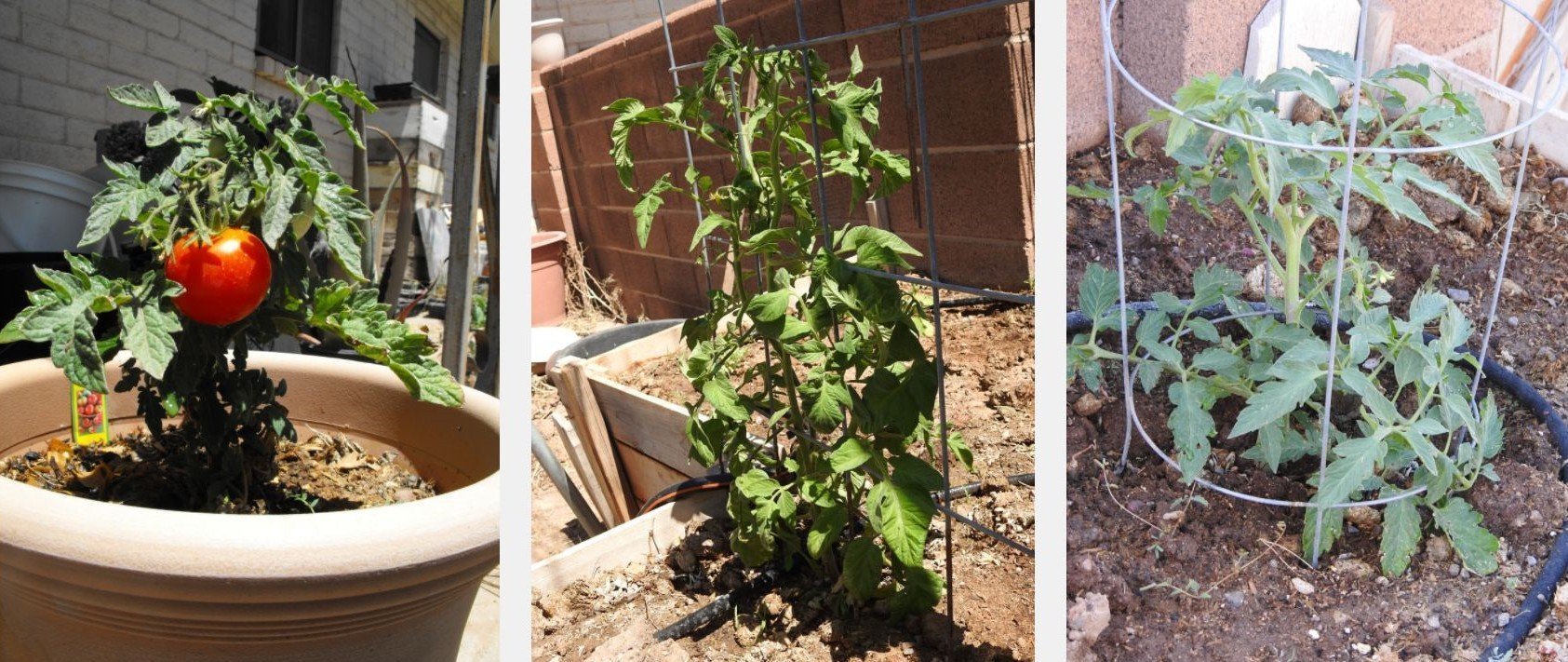 Pic17: 2014-06-10 — container tomato
Pic18: 2017-05-28 — hog fence trellis
Pic19: 2017-06-02 — tomato cage
I have not had much success with container tomatoes. The larger varieties don't fully develop and the dwarf varieties produce very little.
My favorite method is the hog fence trellis. The openings are large enough to push vining branches through to the other side without breaking them, so I didn't have to tie them.
Tomato cages are not tall enough for indeterminate varieties. They are useful for (semi-)determinate varieties to keep the developing fruit off the ground.
2018 walled raised bed garden

Pic20: 2018-07-29 — tomato on the vine
Pic21: 2018-08-16 — black tomato variety and larger red varieties
Pic22: getting ready for the next growing season — internet picture
After a 2015 tornado destroyed my garden I gave up on that backyard vegetable patch and withdrew to the walled raised bed garden.
I can only plant a few tomatoes there and they don't seem to do very well in the front yard flower garden.
Despite a late mid-November first freeze, these tomatoes didn't produce nearly as well as the ones in the backyard.