Chicken Stock

Pic1: stock from chicken feet

is delicious


Pic2: chicken stock with meat and vegetables = soup
Duck Stock

Pic3: stock from duck carcasses
Pic4: duck necks and giblets
Turkey Stock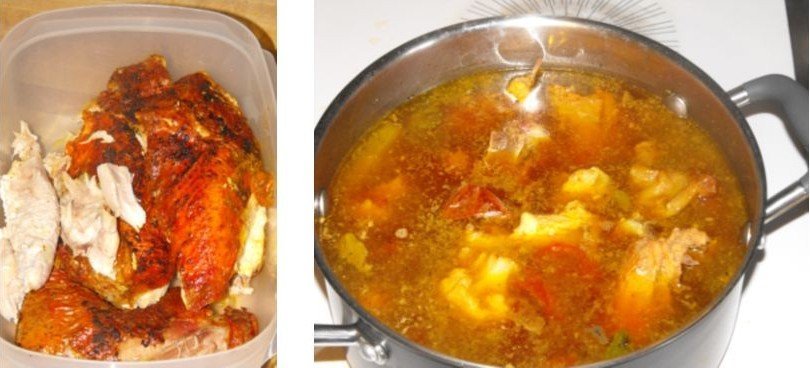 Pic5: turkey leftovers
Pic6: Making turkey soup
A turkey is likely to be the biggest bird most families will ever have for dinner. There's bound to be leftovers. Why not stock up on stock after turkey day? It will save you a lot of time later on throughout the year.
Turkey stock is a very good base for soups and sauces. Turkey stock or soup freezes well. Canned it will easily keep until next turkey day comes about. It will taste even better if you add some meat or bones in the canning jar. I prefer not to add salt or spices when making stock for freezing or canning. That avoids the problem of mistakenly adding it a second time when using later.
1. turkey soup:
Place the turkey bones, neck and giblets in a stock pot.

Feed the liver to the dog or cat if you don't like that in the soup.

Add the small-cut vegetables, potatoes and spices.

Add enough water to cover everything, bring to a quick boil. Add S&P and spices to taste.

Simmer for 45 min. to 1 hr. (Pic4)

Serve with the vegetables and some turkey meat.
2. Turkey stock:
Simmer for at least 3 more hours. Sieve out the solids to get a clear stock.

Remove the bones. The bones can be used again to cook a weaker stock.

Pass the rest through a food mill and discard the remaining solids.

Stock can be turned into soup again by adding vegetables and other goodies.
Canning
Canning produces a much stronger stock, especially if you add some bones. The meat and bones can sit in the stock for months on end. That is a very long time to make a good strong brew. Stovetop just can't compete with that kind of dedication. :-)

Pic5: canned duck
Pic6: canned turkey soup