Ave Maria after Jacques Arcadelt
Composer: Pierre Louis Philippe Dietsch (1808-1865), 1842

| | | | | | | | | | | | | | | | | | | |
| --- | --- | --- | --- | --- | --- | --- | --- | --- | --- | --- | --- | --- | --- | --- | --- | --- | --- | --- |
| | | | | | | Pierre Louis | | Dietsch | | 1808 | 1865 | | 1842 | | | Ave Maria after Arcadelt | SATB | orgue |
| | | | X | X | | Pierre Louis | | Dietsch | | 1808 | 1865 | | 1863 | | | Ave Maria | solo | orgue |

Arcadelt did NOT write an Ave Maria. The Ave Maria setting on this tune is a 19th century adaptation by Pierre Louis Philippe Dietsch (1808 - 1865) of the original madrigal "Nous voyons que les hommes" composed for 3 female voices by Jacob Arcadelt. The bass part in particular is entirely Dietsch's work.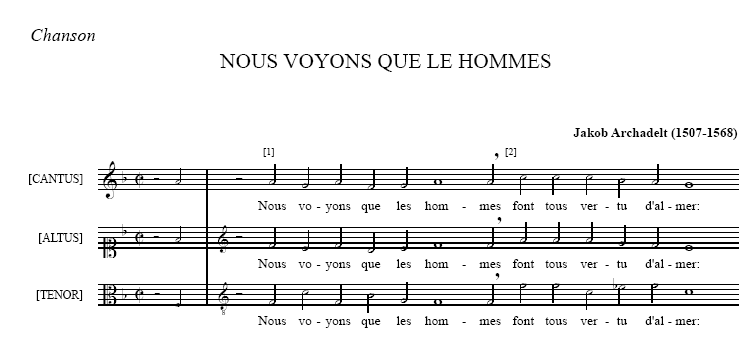 Source:
Im März 1842 führte Pierre-Louis Dietsch in einem Chorkonzert ein Ave Maria für vierstimmigen Chor a cappella auf, das er im Werk des niederländischen Renaissance-Komponisten Jakob Arcadelt entdeckt haben wollte. Da ein derartiges Werk in Arcadelts Schaffen aber nicht nachweisbar war, und auch wegen für die Epoche untypischen Fehlern hinsichtlich Metrik und Prosodie, galt die Komposition schon bald als eine Fälschung Dietschs.
Erst 1927 wurde Dietsch zum Teil rehabilitiert, als der Musikwissenschaftler André Pirro nachweisen konnte, dass die Melodie des Ave Maria tatsächlich von Arcadelt stammt, allerdings aus dessen dreistimmiger weltlicher Chanson Nous voyons que les hommes. Die geistliche Kontrafaktur und der romantische vierstimmige Chorsatz sind dagegen allein das Werk Dietschs.

Lyrics:
A few of many recordings:

play/stop MIDI:


Ave Maria, gratia plena,
Dominus tecum,
Ave Maria, benedicta tu,
benedicta tu in mulieribus,
et benedictus fructus ventri tui, Jesus.

Sancta Maria, ora, ora pro nobis,
Sancta Maria, ora, ora pro nobis,
Sancta Maria, ora, ora pro nobis,
Amen.

Score: available on www.cpdl.org

| | |
| --- | --- |
| A few of the many YouTube postings: | |
| | |

Page last modified: August 16, 2012
Return to my homepage: www.avemariasongs.org