Ave Maria piena di grazie for contralto voice + organ
Composer: don Vincenzo Cimatti (1879-1965), 1979
| | | | | |
| --- | --- | --- | --- | --- |
| | page | (Italy / Japan) | | |

| | | | | | | | | | | | | | | | | | | |
| --- | --- | --- | --- | --- | --- | --- | --- | --- | --- | --- | --- | --- | --- | --- | --- | --- | --- | --- |
| X | X | X | X | X | | don Vincenzo | | Cimatti | | 1879 | 1965 | | | | | Angelus | | |
| | | | | | | don Vincenzo | | Cimatti | | 1879 | 1965 | | 191? | | | Ave Maria | 1 or 2 female voices | organ |
| X | X | X | | X | | don Vincenzo | | Cimatti | | 1879 | 1965 | | | | | Ave Maria te canti il sol che nasce | | |
| | | | | X | | don Vincenzo | | Cimatti | | 1879 | 1965 | | 1979 | | #372 | Ave Maria di grazie piena | solo female voice | piano |
| X | X | X | | X | | don Vincenzo | | Cimatti | | 1879 | 1965 | | 1979 | | | notturno Ave Maria | | |
| X | X | X | | X | | don Vincenzo | | Cimatti | | 1879 | 1965 | | 1979 | | | Ave Maria | female solos + choir | a capella |
| X | X | X | | X | | don Vincenzo | | Cimatti | | 1879 | 1965 | | 1979 | | | Ave, Ave, Ave Maria | | |
| | | | | X | | don Vincenzo | | Cimatti | | 1879 | 1965 | | 1946 | | | Ave Maria | soprano voice | piano |
| X | X | X | | X | | don Vincenzo | | Cimatti | | 1879 | 1965 | | 1946 | | | Ave Maria, gratia plena | choir | organ |
| | | | X | X | | don Vincenzo | | Cimatti | | 1879 | 1965 | | | | | Ave Maria piena di grazie | contralto solo | piano |
| | | | | | | don Vincenzo | | Cimatti | | 1879 | 1965 | | | | | Ave Maria Engelhardt arr. don Cimatti | | |

Recording: not available
MIDI / Lyrics:

play/stop MIDI:



A-ve Ma-ri-a pie-na di gra-zia
il Si-gno-re e Te-_-co,
Tu sei be-ne-det-ta fra le don-ne
e be-ne-det-to_e il frut-to del ventre tuo Ge-su, Ge-su.
San ta Ma ri a Ma dre di Di o
pre-ga per noi pec-ca-to-_-_-ri
A des so e nel-l'o ra del-la no-stra mor-te
Co-si si-a. Co-si si-a.
Score: (manuscript copy)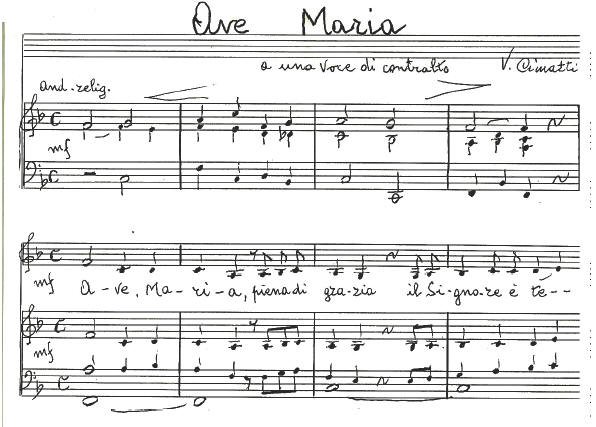 My thanks and appreciation to
Fr. Gaetano Compri
for sending me this score.

Posted on YouTube: Not available at this time.

You could be featured here!


If you (or your choir) perform this Ave Maria, make a video recording. Post your video on YouTube, email me the page URL and I'll embed the video in this page.


You can also email me an MP3 for audio only.

Page last modified: April 06, 2013
Return to my homepage: www.avemariasongs.org