Ave Maria for choir & guitar
Composer: Ernesto Cordero (*1946), 1967
arr. Guarionex Morales Matos (s.a.), 2011
| | | | | |
| --- | --- | --- | --- | --- |
| | website | USA - Puerto Rico | | AveWiki link |

Recording: not available
MIDI / Lyrics: not available
Score: contact composer through his website to obtain a copy of the score.
play/stop MIDI: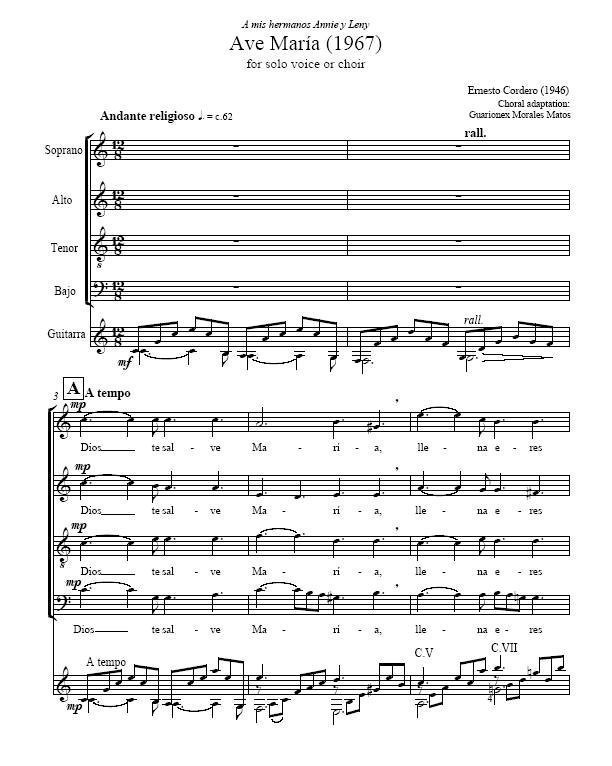 My thanks and appreciation to
composer Ernesto Cordero
for sending me this score.

Posted on YouTube:
Uploaded by cordero4444 on Apr 23, 2011

Adaptación coral por Guarionex Morales Matos (2011), Orfeón San Juan Bautista, dirección musical Guarionex Morales, guitarrista Agustín A. Rosado Márquez. Ave María (1967) es la única pieza sagrada compuesta por Cordero. Es una obra de juventud cargada de la emotividad que propició su composición, puesto que la escribió para el casamiento de su hermano Leonardo Cordero y su esposa Annie Suria. Se estrenó en la esquisita voz de la fenecida soprano Luisita Rodríguez, acompañada al piano por el Maestro Rafael Ferrer. El manuscrito de esta delicada miniatura de matices andaluces y criollos esperó en los archivos del compositor varias décadas para ser escuchada nuevamente.
Notas por Guarionex Morales Matos. www.ernestocordero.com

Internet references, biography information.




Please notify us of any broken/defective links

Page last modified: November 15, 2011
Return to my homepage: www.avemariasongs.org