Examples from Real Life
While the stories of the four women with their different wheelchair needs are imaginary, they are based on experiences of real women. "Low-rider" wheelchairs or "trollies," such as the one adapted for Mira's needs, are produced for paraplegic women in Bangladesh by the Center for Rehabilitation of the Paralyzed.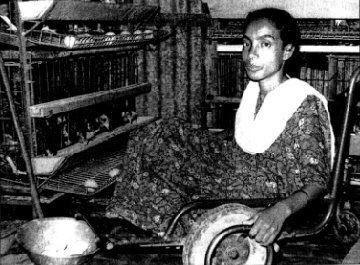 This woman in Bangladesh uses a trolley in her home business, raising chicken and selling eggs. Having an income of her own increases her independence and wins her community's respect. Photo by Shahidul Haque for Social Assistance and Rehabilitation for the Physically Vulnerable (SARPV).
Wheeled cots can also be adapted to local customs.
| | |
| --- | --- |
| | |
| In most countries, trollies (wheeled cots or gurneys) are at a height so the person can eat and work at a table. This boy is on a gurney in order to remain active while his hip and knee contractures are straightened. (For more on gurneys and trollies, see Chapter 37.) | This floor-level trolley, or wheeled cot, was developed by the same program in Bangladesh that builds low-rider wheelchairs. It allows this boy to join his family for meals on the floor. (The boy needs to lie on his belly to heal pressure sores on his backside and to correct his hip contractures.) |