Ave Maria
Composer: Christopher M. Wicks (*1975), 2012

| | | | | | | | | | | | | | | | | | | |
| --- | --- | --- | --- | --- | --- | --- | --- | --- | --- | --- | --- | --- | --- | --- | --- | --- | --- | --- |
| | | | | | | Christopher M. | | Wicks | | 1975 | | | 2012 | | | Ave Maria 1 | voice | organ |
| | | | | | | Christopher M. | | Wicks | | 1975 | | | 2012 | | | Ave Maria 2 | voice | organ |

Recording: not available
Lyrics: not available, see score
Score: email composer Christophermw

wavecable.com .
play/stop MIDI: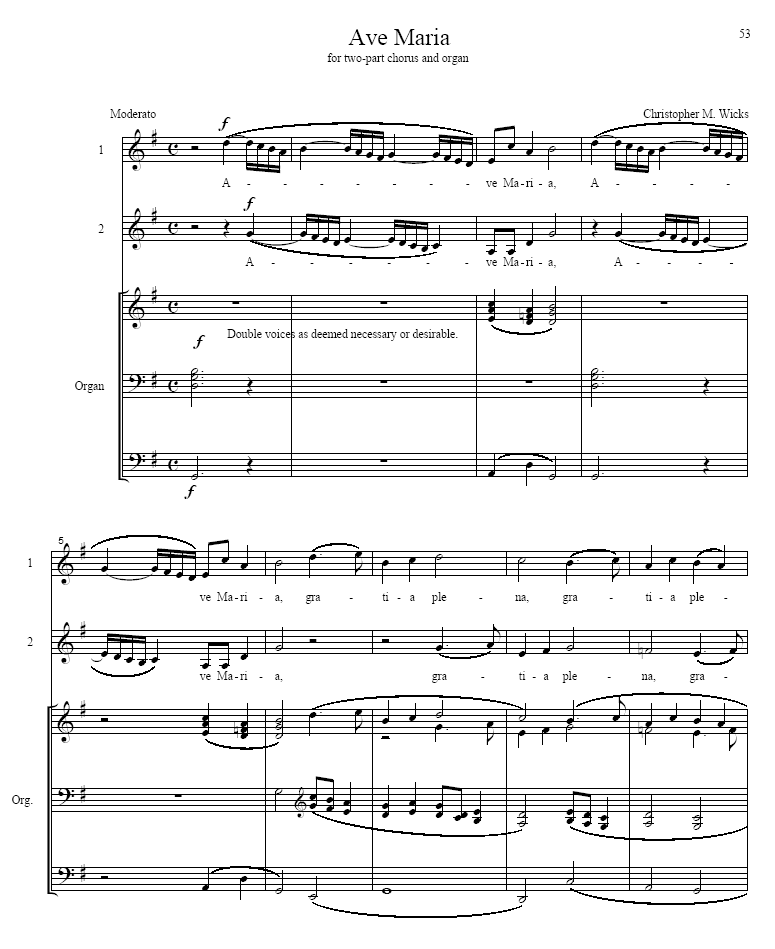 My thanks and appreciation to
composer Christopher Wicks
for sending me this score and documentation.

Posted on YouTube:
Published on Apr 23, 2012 by monsieurw1

This is a setting of the "Ave Maria" by composer Christopher Wicks, sung by sopranos Pat Harle, Deborah Butler and Becky Muir; and alto Emily Flanagan. Accompanied at the organ by Christopher Wicks, and conducted by Pat Harle. Concert of the Silverton Latin Ensemble, April 22, 2012. At Christ the Good Shepherd Lutheran Church in Salem, Oregon.




Please notify us of any broken/defective links

Page last modified: March 20, 2013
Return to my homepage: www.avemariasongs.org