Ave Maria
Composer: Christopher M. Wicks (*1975), 2012

| | | | | | | | | | | | | | | | | | | |
| --- | --- | --- | --- | --- | --- | --- | --- | --- | --- | --- | --- | --- | --- | --- | --- | --- | --- | --- |
| | | | | | | Christopher M. | | Wicks | | 1975 | | | 2012 | | | Ave Maria 1 | voice | organ |
| | | | | | | Christopher M. | | Wicks | | 1975 | | | 2012 | | | Ave Maria 2 | voice | organ |

Recording: not available
Lyrics: not available, see score
Score: email composer Christophermw

wavecable.com .
play/stop MIDI: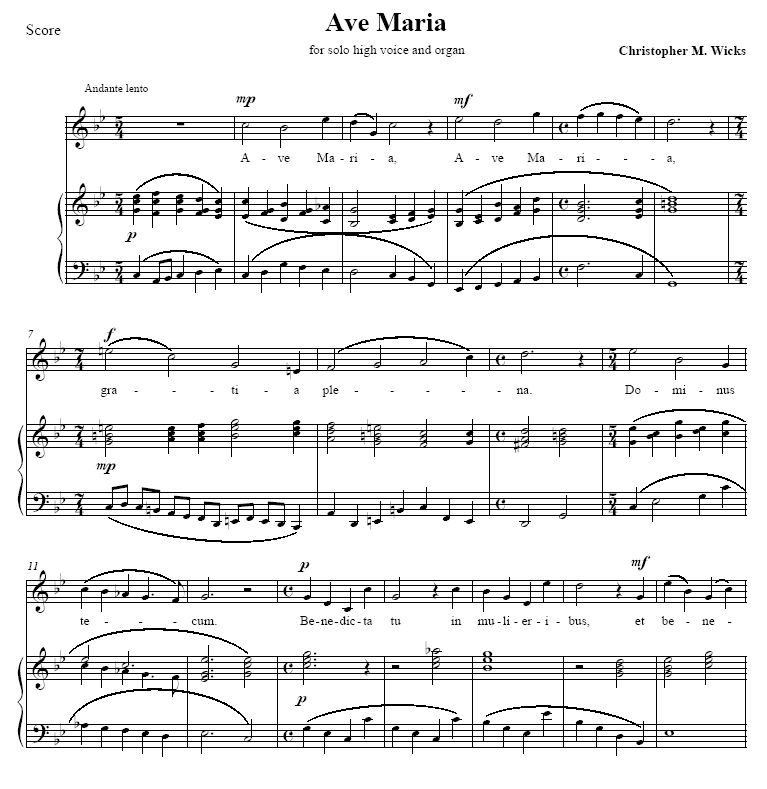 My thanks and appreciation to
composer Christopher Wicks
for sending me this score and documentation.

Posted on YouTube:
Published on Apr 23, 2012 by monsieurw1

Becky Muir, soprano, sings an "Ave Maria" composed by Christopher Wicks, accompanied by him at the organ. Concert of the Silverton Latin Ensemble, April 22, 2012. At Christ the Good Shepherd Lutheran Church in Salem, Oregon.


Internet references, biography information.
Christopher M. Wicks (b. 1975)
is a composer and organist who lives in Oregon's Willamette Valley. He is the organist at two churches in Salem, and is a Fellow of the American Guild of Organists. He holds a M.Mus. in Composition from the University of Montreal, and a M.Mus. in Organ from the University of Oregon. His bachelor's degree is from Marylhurst College near Portland, but he did most of the work for that degree at the Eastman School of Music in Rochester, NY. He is the composer of works published by such houses as World Library Publications in Chicago; Holben Publishing in Long Beach, Calif,; Imagine Music in Medina, NY; Wayne Leupold Editions in Colfax, NC; and Augsburg Fortress in Minneapolis, Minn. His compositions have been performed in festival, concert and church settings throughout North America, in Korea and in six European countries. His music has been played on radio programs such as WFMT Chicago's "Music Through the Night," and on the evening programming of the classical station in Portland, Ore. His works have been chosen in calls for scores by the Society of Composers, Inc. (four regional conventions and one national), the Washington Composers Forum, and the Longfellow Chorus in Portland, Maine. As a post-graduate student, he was twice chosen as a finalist for the Student Commissioning Project of the Society of Composers, Inc. and the American Society of Composers, Authors and Publishers.


Please notify us of any broken/defective links

Page last modified: March 20, 2013
Return to my homepage: www.avemariasongs.org