Zajc, Ivan - Ave Maria
for SATB choir a cappella
year of composition / 1st publication: s.a.
---



Composer: Ivan Zajc (1832-1914)
Aliases, aka: Ivan Dragutin Stjepan Zajc, Giovanni von Zayitz
Country of origin / activity: Croatia
Text author: traditional
Arranger / Editor: N/A
---
| PDF | MIDI | MP3 | VID | First name | Last name | Birth | Death | comp | ID # | Title | Voicing | Instrumentation |
| --- | --- | --- | --- | --- | --- | --- | --- | --- | --- | --- | --- | --- |
| 1 | 1 | 1 | 1 | Ivan | Zajc | 1832 | 1914 | | | Ave Maria | SATB | a capella |
| 0 | 0 | 1 | 1 | Ivan | Zajc | 1832 | 1914 | | | Ave Maria | SATB | organ |
| 1 | 1 | 0 | 0 | Ivan | Zajc | 1832 | 1914 | | Op933 | Ave Maria | low voice | organ |
| 1 | 1 | 0 | 0 | Ivan | Zajc | 1832 | 1914 | | Op.934 | Ave Maria | high voice | organ |
| 1 | 1 | 0 | 0 | Ivan | Zajc | 1832 | 1914 | | Op.937 | Ave Maria | mzSoprano | organ |
Available documentation:
Score: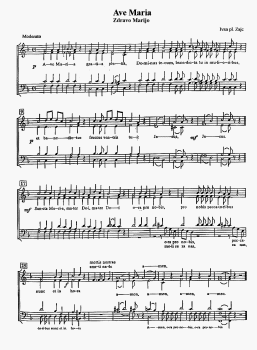 My thanks and appreciation to
Danijel Krilèiæ
for sending me this score.
Lyrics:
A-ve Ma-ri-a gra ti a ple-na
Do-mi-nus te-cum,
be-ne-dic-ta tu in mu-li-e-ri-bus,
et be-ne-dic-tus fruc-tus ven-tris tu-i Je-sus, Je-sus.


San-cta Ma-ri-a, ma-ter De-i,
ma-ter De-i,
o ra pra no bis, pro no-bis pec-ca-to-ri-bus
nunc et in ho-ra mor-tis nos-trae, A-men.

Video - posted on YouTube:
Internet references, biography information:
http://en.wikipedia.org/wiki/Ivan_Zajc
From Wikipedia, the free encyclopedia

Ivan Zajc (also Croatian: Ivan pl. Zajc (plemeniti), Italian: Giovanni von Zayitz; pronounced [ǐʋan zâjts]; August 3, 1832 – December 16, 1914), was a Croatian composer, conductor, director and teacher who for over forty years dominated Croatia's musical culture. Through his artistic and institutional reform efforts, he is credited with its revitalization and refinement, paving the way for new and significant Croatian musical achievements in the 20th century. He is often called the Croatian Verdi.
Life
Childhood years
Ivan Dragutin Stjepan Zajc was born in Fiume, modern-day Rijeka, Croatia. His musical talent was evident very early on in his life, as he began to study the piano and violin at the age of five, performed in public by the age of six, and even began to compose his own music by the age of twelve. Nevertheless, despite his early musical success, his military bandmaster father was opposed to the idea of a career in music and wanted him to study law instead following the completion of his secondary education. In the end, Zajc's professors prevailed and he entered the Milan Conservatory in 1850 with his father's consent.
Early success in Milan and Vienna
Zajc studied in Milan from 1850 to 1855, under the supervision of Stefano Ronchetti-Monteviti (counterpoint and composition), Alberto Mazzucato (orchestration), and Lauro Rossi (dramatic music). During this period, Zajc took his studies very seriously and regularly won prizes as one of the conservatory's most talented students. He was awarded first prize at his graduation examination for the opera La Tirolese (1855), which was performed on stage in the same year. Zajc's future as a composer and conductor in Milan was secure, but the death of his parents in the meantime forced him to return to Rijeka.
Back home, he accepted the post of conductor and concert master of the Town Theatre Orchestra, taught stringed instruments at the Philharmonic Institute, and simultaneously wrote numerous compositions with his characteristic speed and ease. In 1860, his opera Amelia ossia Il Bandito was met with great success, though two years later, after a prolonged illness, Zajc chose to move to Vienna where opera and theatre were flourishing. His eight year stay there (1862–1870) was marked by further success, though he settled for composing operettas rather than operas. His first Viennese work, Mannschaft an Bord (1863), was enormously well received and his later operettas only served to strengthen his growing reputation. Yet interestingly, it was in Vienna where Zajc became involved with the Croatian academic society Velebit and frequently met with young Croatian students. Influenced by such Croatian cultural figures as bishop Josip Juraj Strossmayer and poets Petar Preradović, Ivan Trnski, August Šenoa, and Matija Divković, Zajc chose patriotism over worldfame and returned to Croatia.
Return to Croatia
Upon his arrival in Zagreb in 1870, Zajc was presented with two posts: director and conductor of the Croatian Opera and director and teacher at the Croatian Institute of Music. It was during this period that Zajc made his colossal contribution to Croatian musical culture, not only through his compositions, but also through his leadership in reorganizing Zagreb's musical institutions. He was also an excellent vocal teacher and succeeded in training several prominent singers. Zajc was an exceptionally prolific composer as evidenced by almost 1000 works, from Op. 234 to Op. 1202, produced during his time in Zagreb. Included in this number are Mislav (1870), Ban Leget (1872), his masterpiece Nikola Šubić Zrinjski (1876), and Lizinka (1878), in addition to operettas, musical comedies, cantatas, songs and choral compositions, concerti, chamber music, and many other works.
Zajc's appointment at the opera was held until 1889, when owing to financial difficulties the organization lapsed for a time, but Zajc retained his post at the school until 1908, when he finally retired. He is credited with reviving Croatian music during a period of musical stagnation after the collapse of the Illyrian Movement and raising it to the artistic level where it stands today. His efforts paved the way for new and significant Croatian musical achievements in the early 20th century, which Zajc himself lived to see until his death on December 16, 1914 in Zagreb.
Page last modified: November 22, 2013