Ave Maria
Composer: Fr. Ignatius M. Wilkens, O. F. M. (1856-1934), 1899

| | | | | | | | | | | | | | | | | | | |
| --- | --- | --- | --- | --- | --- | --- | --- | --- | --- | --- | --- | --- | --- | --- | --- | --- | --- | --- |
| | | | X | X | | Ignatius M | | Wilkens | | 1856 | 1934 | | 1899 | | | Ave Maria | SATB | organ |
| | | | X | X | | Ignatius M | | Wilkens | | 1856 | 1934 | | 1913 | | Op.73 | Ave Maria | SATB | organ |
| | | | | X | | Ignatius M | | Wilkens | | 1856 | 1934 | | 1924 | | Op. 100 | Ave Maria | SATB | organ |
| | | | X | X | | Ignatius M | | Wilkens | | 1856 | 1934 | | 1924 | | Op.101 | Ave Maria | SATB | organ |
| | | | X | X | | Ignatius M | | Wilkens | | 1856 | 1934 | | | | Op.104 | Ave Maria | solo voice or unison choir | organ |

Recording: not available
Lyrics:
A ve Ma ri a, gra ti a ple _ _ na,
Do _ minus _ te cum,
Do-mi-nus te cum,
be ne di cta tu in mu li e _ ri bus
et be ne di ctus fruc tus ven _ tris tu i Je _ sus.

O-ra pro no bis,
pec _ ca _ to ri bus,
nunc _ et in ho _ ra,
nunc et in ho ra mor _ tis no _ strae. _
A _ _ _ men

Score: available from Archives

of the Franciscan Friars of St. John the Baptist Province

through facebook account
My thanks and appreciation to
Ron Cooper - Franciscan Archives
for sending me this score.

Posted on YouTube: Not available at this time.

You could be featured here!


If you (or your choir) perform this Ave Maria, make a video recording. Post your video on YouTube, email me the page URL and I'll embed the video in this page.


You can also email me an MP3 for audio only.

Internet references, biography information.
http://media.musicasacra.com/publications/caecilia/1935_03_caecilia.pdf p.14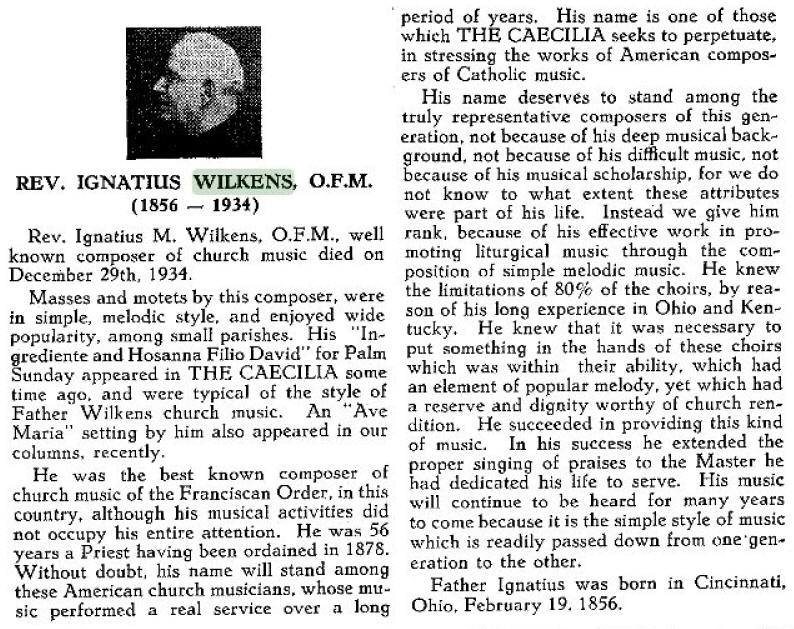 http://www.franciscan.org/who/March_150Anniversary.asp
As a child, Ignatius Wilkens was too poor to buy a song book — so he learned the words of the hymns by heart. His talent for music was fostered by friar-teachers at St. Francis Parochial School in Cincinnati. Ignatius credited God and those teachers for his abilities as an organist and composer, nurtured as a young friar during assignments as an editor, teacher and assistant pastor in Louisville, Detroit and Cincinnati. Among his more than 100 compositions were four complete Masses, 12 Ave Marias and a number of Eucharistic hymns. His festive Jubilate Deo was performed by choirs throughout the country. Wilkens' work was described by a reviewer as among "the most effective Catholic hymns of praise ever written by an American composer."
http://webapp1.dlib.indiana.edu/inauthors/view?docId=VAB8203&chunk.id=d1e759&brand=ia-books&doc.view=notoc&anchor.id= The Diocese of Fort Wayne
THE REV. IGNATIUS M. WILKENS, O. F. M.
He was born February 15, 1856; entered the Order, September 17, 1871; ordained priest, December 21, 1878; in Lafayette at St. Boniface's Church, from August 1888 to September 1890 and again, from 1891 to December 1892. From August 1891 to July 1892, he also visited the station Frankfort.

http://www.usgennet.org/usa/ne/topic/religion/catholic/Franciscans/pages/pt2/fine0028.htm
St. Francis De Sales Church, Lincoln, NE
THE FRANCISCANS TAKE CHARGE (SKETCH BY REV. ILDEPHONSE GAST)

The Franciscans took over the parish of St. Francis de Sales on January 1, 1892, and sent Rev. Ignatius Wilkens, O, F. M., who became the first superior and pastor. With him came Father Peter A. and Brother Arnold. The congregation numbered about forty families and two rooms below the church were used for a school. Father Wilkens found the treasury absolutely empty, there not being money enough to buy fuel, or defray other ordinary expenses. The Fathers suffered all sorts of privations on this account. Many bills had been left unpaid, and notes amounting to several thousands of dollars were due. For about twelve years the Franciscans took no salary, because the financial condition made it impossible.

When the Franciscans took charge, the parish consisted of about forty families, instead of 200 as had been supposed to belong to it. Father Ignatius remained until the summer of 1893.

The so-called "Beneplacitum Apostolicum" for the St. Francis friary and school adjoining, was obtained May 14, 1893, and the Bishop promised for himself and successors that in case of future divisions of the parish 300 families should remain with St. Francis de Sales parish. The document is dated January 5, 1894.
============================================

FRANCISCAN PASTORS, JANUARY 1, 1893-MARCH 27, 1926
1. Rev. Ignatius Wilkens, O, F. M., January 1, 1893-September, 1893.


Please notify us of any broken/defective links

Page last modified: April 09, 2013
Return to my homepage: www.avemariasongs.org