Ave Maria
Composer: Lorenzo Viviani (1879-1961), s.a.

| | | | | | | | | | | | | | | | | | | |
| --- | --- | --- | --- | --- | --- | --- | --- | --- | --- | --- | --- | --- | --- | --- | --- | --- | --- | --- |
| | | | X | X | | Lorenzo | | Viviani | | 1879 | 1961 | | | | | Ave Maria | voice | piano |
| | | | | X | | Lorenzo | | Viviani | | 1879 | 1961 | | | | | Ave Maria | voice | piano |

Recording: not available
Lyrics: not available, see score.
Score: free download available on THIS PAGE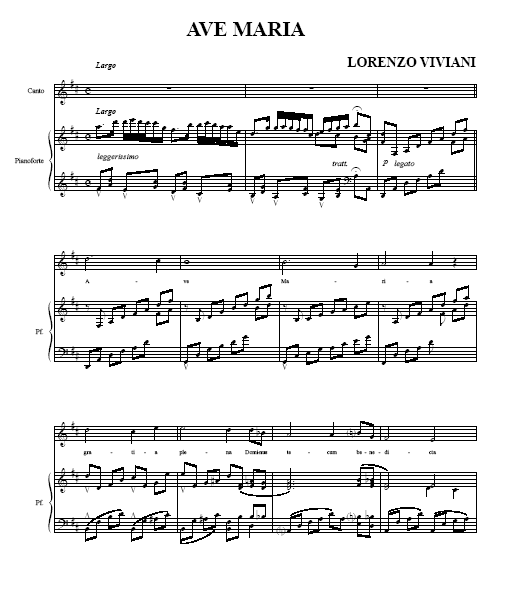 My thanks and appreciation to
Marco Motta, great-grandson of the composer
for making these scores available on his website

Posted on YouTube: Not available at this time.

You could be featured here!


If you (or your choir) perform this Ave Maria, make a video recording. Post your video on YouTube, email me the page URL and I'll embed the video in this page.


You can also email me an MP3 for audio only.

Internet references, biography information.
source page
also available in Italian
BIOGRAPHY OF LORENZO VIVIANI
(kindly supplied by Master Lillo di Cesare)

Lorenzo Viviani was born in Menfi on 12/21/1879. He married Marietta Barrile on 12/19/1908, and, from her, he had five sons: Ludovico, Lorenzo, Renato, Ettore and Chiara.
When he was a young man he entered in the Episcopal Seminary of Girgenti for being ordained priest; he was one of the best seminarist, excelling both in study and in music. On the occasion of the visit of a Cardinal sended from Rome, all the priests of the Diocese had a meeting in the seminary; all the seminarists and a large delegation of the Agrigento's nobility participated to the event. The Cardinal give a lecture, in the presence of the clergy, during which he praised the actions of local riches and nobles, provoking in the seminarist Lorenzo Viviani such a disappointment to make he to take part directly: "Eminence, I'm amazed that you are been chosen as Cardinal! You don't know the Gospel; the friends of the Lord were the poor, the humble ones, the destitute. He himself was born in a cave; your words, I am sure, have not been appreciate by those present, but nobody dares to contradict you for regarding to the position that you hold; I can, because I am protected from the Holy Spirit", and so finished: "This means that I could not be priest, because from this moment I resign my commission for not to be persecuted like our Lord Jesus Christ".

After having finished his secondary school studies, he registered at University of Palermo graduating with merits in law. Then he embarked on career of captain ("commissario") of police, reaching the level of vice commissioner ("vicequestore"). He worked in Sicily beside to "iron prefect" Cesare Mori for fighting against mafia. Viviani, man of great courage and highly bound to his land, violently contested the head of police, prefect Arturo Bocchini, who come in the island in order to meeting all the delegated prefects, captain and the four commissioners of the provinces of Agrigento, Trapani, Caltanissetta, Palermo. Bocchini showed arrogance and contempt towards Sicily and Sicilians, and above all towards poor country people, erroneously convinced that Mafia was hidden among them, and so that, against them, police must act harshly. In that occasion that's what Viviani said: "Sicily is the beautifulst region of Italy, Sicilians are gems of gentleman; Mafia is infiltrated into people of upper standing, then we must leave poor people alone; the prefect doesn't know neither Sicily nor Sicilians, he doesn't know who are really member of the Mafia and ignores the Gospel". Offended and irritated, Bocchini answered: "You were wrong in contradicting me, you will never become commissioner".
"I was not a priest, let alone I wish to be a commissioner on the conditions that you impose". So, with these words Viviani gave a further proof of intellectual honesty and moral correctness. Often Cesare Mori and his wife Lina went to Menfi at their friend Lorenzo Viviani.

During the police service he often faced difficult situations. One tells that his journalistic article, not still published, in which he denounced methods and abuses of fascist police, had ended in the hands of the commissioner. Reported to disciplinary board, he was, from the prefect, threatened to be laid off. Captain Viviani firmly defense himself from false accusations, even though he confirmed brutal methods of fascist police. His indomitable attitude irritateed the prefect: "Rather than to repent for what you made, you dare to pile it on". Imperturbable Viviani answered: "I am not frightened to tell the truth; if you don't believe my words, you will at least believe the facts". He taked off the shirt and, remaining bare chested, showed the wounds that he received in several conflicts. In front of such reality, not only the President rejected the accusation, but he praised captain Viviani for his professional ability and the courage that he demonstrated during the accomplishment of service.

Man of many interests, Viviani: look after the art of music: he loved to play in the churches, especially in Menfi's Mother Church, and wrote musical compositions still today believed of great value. Endowed with a great melodic talent, he composed wonderful lyric arias, and he had also the ability to discover in Menfi relief important voices; he made and guided a vocal chorus from which standed out several talented persons, free looked after them from Viviani himself; between these we remember the young man Piero Mistretta, brilliant tenor, and the young Master Lillo Di Cesare, professor to Music Conservatory of Palermo and collaborator to the piano in Maximum Theatre.

The most beautiful songs of Viviani have been performed by tenor Piero Mistretta in several concerts that he gave in some European countries and recorded also by Dutch radio. More representative compositions are:
- The Ave Maria
- Pippinedda
- Serenata d'amore
- Ritornello e marichiare
- Nica mia.

He loved and composed also church music pieces: we remember "Vanitas", performed from bass Paolo Silveri. To him we still owe further works dedicated to:
- your Royal Highnesses princesses Mafalda and Giovanna of Savoia
- head of state Benito Mussolini
- prefect Cesare Mori and his wife Lina.
He died in Menfi 12/24/1961.

In memory of Viviani, april 27 1990, in the presence of mayor, the engineer Saverio Vetrano, of councillor to Cultural Heritage Lorenzo Di Giovanna and of a large delegation of Menfi's people, tenor Piero Mistretta presented a vinyl record recently recorded by him, dedicated to the most beautiful compositions of the Maestro.



Please notify us of any broken/defective links

Page last modified: April 05, 2013
Return to my homepage: www.avemariasongs.org