Ave Maria a6 in 'Missa Ave Maria'
Composer: Giovanni Pierluigi da Palestrina (1525-1594)

Giovanni
da
Palestrina
1525
1594
Ave Maria
Paribus vocibus
TTBB
a cappella
Giovanni
da
Palestrina
1525
1594
1590
Ave Maria
In Annunciatione Beatae Mariae
TTBB
a cappella
X
X
Giovanni
da
Palestrina
1525
1594
1604
Ave Maria
? Paribus vocibus ?
TTBB
a cappella
X
X
Giovanni
da
Palestrina
1525
1594
Angelus Domini
SATTB
a cappella
X
X
Giovanni
da
Palestrina
1525
1594
1575
Ave Maria
SSATB
a cappella
X
X
Giovanni
da
Palestrina
1525
1594
1593
Ave Maria - Offertorium Dominica IV Adventus
SATTB
a cappella
Giovanni
da
Palestrina
1525
1594
Missa Ave Maria
SAATTB
a cappella
X
Giovanni
da
Palestrina
1525
1594
Ave Maria
SATBx2
a cappella
X
X
X
X
Giovanni
da
Palestrina
1525
1594
Ave mundi spes, Maria
SATBx2
a cappella
X
X
X
Giovanni
Bassano
c1558
1617
transcription of
Palestrina's Ave Maria (ii)

Missa Ave Maria a6
MIDI / Lyrics: not available
Score: free download on IMSLP (operaomnia) - Ave Maria in 5th voice (Tenor II) throughout the mass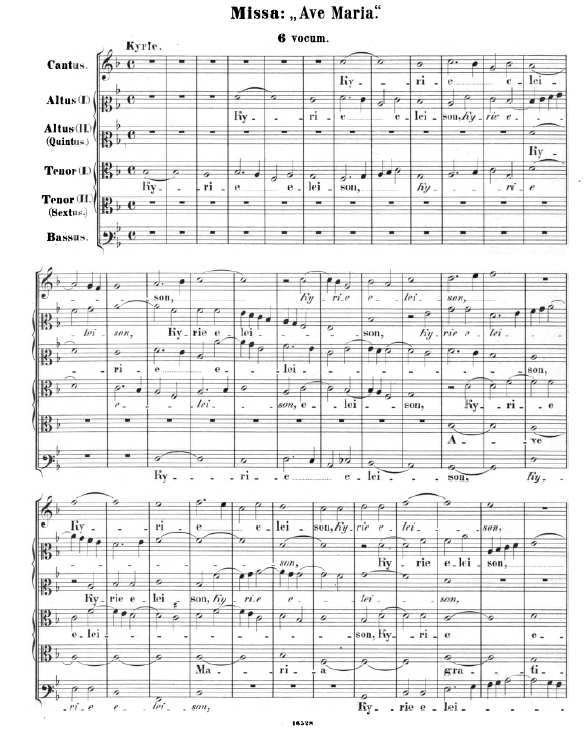 Recording:
play/stop MP3 sample :


Posted on YouTube:
Uploaded by markfromireland on Jan 21, 2012

Palestrina's son Iginio published his father's Missa Ave Maria posthumously in 1594 in the Missae Quinqué, liber septimus. As its title suggests it's derived from the Ave Maria prayer, the chant which appears regularly throughout the Mass. It makes its first appearamce during the Kyrie -- giving it its very strong opening. The Mass has so many high points that it's difficult to narrow them down. I find the long sustained meditation at 'Crufixus' to be one such high point, the vigorous and expansive Gloria has a very moving 'Qui tollis', and the 'Bendictus' is very beautiful. This performance by the Westminster Cathedral Choir conducted by James O'Donnell was recorded in Westminster Cathedral between March 6th and March 9th 1989.

Internet references, biography information.


Please notify us of any broken/defective links

Page last modified: April 28, 2012Return to my homepage: www.avemariasongs.org