Izon, Ali - Ave Maria
for unison choir and piano or organ
year of composition / 1st publication: 1995
---



Composer: Reynante 'Ali' Izon (s.a.)
Aliases, aka:
Country of origin / activity: The Philippines
Text author: traditional
Arranger / Editor: N/A
---
Similar names or titles
PDF
MIDI
MP3
VID
First name
Last name
Birth
Death
comp
ID #
Title
Voicing
Instrumentation
1
0
1
1
Reynante Ali
Izon
1995
Ave Maria
unison
piano or organ
1
0
1
1
Reynante Ali
Izon
2000
Ave Maria
unison
piano or organ
0
1
1
1
Reynante Ali
Izon
2010
Aba ginoong Maria
solo / SATB
pf or org/ a cappella
0
1
1
1
Francisco
.
Santiago
arr. Ali Izon
1889

1947

1919
2010
Ave Maria
SATB
a cappella
---
Available documentation:
Score: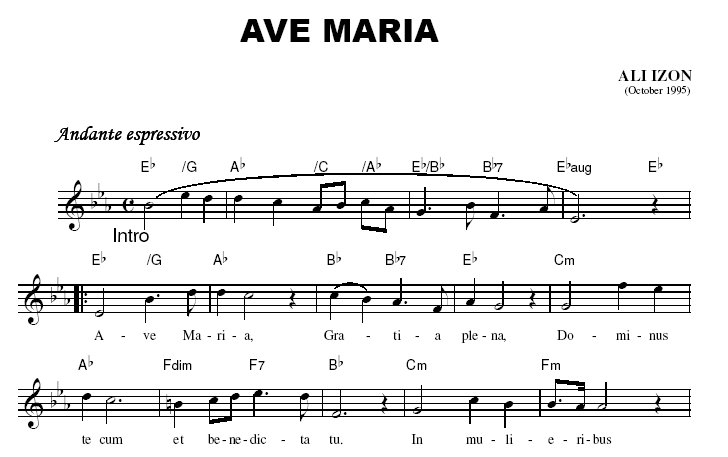 My thanks and appreciation to
composer Ali Izon
for sending me this score.
Lyrics:
(source)
| | |
| --- | --- |
| MIDI: not available | MP3: not available |
Video - posted on YouTube:
AVE MARIA in Eb by Ali Izon
alimozerine — April 08, 2010 — This version of Ave Maria was composed in 1995, earlier than my other "Ave Maria".
I wrote it when I was in my third year at the conservatory. I use this for meditation.
Internet references, biography information:
Page last modified: December 04, 2013