Pater Noster -Ave Maria (SAATTB)
Composer: Josquin Desprez (c.1440-1521); Fr./Flemish
alternate listings as: Josquin, des Pres; des Prez; DesPrez; Des Prez; Despréz , Jossequin Lebloitte dit Desprez

| | | | | | | | | | | | |
| --- | --- | --- | --- | --- | --- | --- | --- | --- | --- | --- | --- |
| X | | | | Josquin | | Desprez | 1440c-1521 | | | Pater Noster -Ave Maria SAATTB Score with lyrics requested. | |
| | | | | Josquin | | Desprez | 1440c-1521 | | | Ave Maria...virgo serena SATB | |
| | | | | Josquin | | Desprez | 1440c-1521 | | | Ave Maria...virgo serena 4+2 SSATTB | |
| | | | | Josquin | | Desprez | 1440c-1521 | | | Ave Maria...benedicta tu SATB | |
| | | | | Josquin | | Desprez | 1440c-1521 | | | Ave Maria...regina coeli SAATTB | |

play/stop MIDI:


play/stop MIDI:


Lyrics: not available
Recordings:

Posted on YouTube:




Josquin Desprez ( ~1440 - 1521) Pater noster / Ave Maria
The Hilliard Ensemble Ltg. Paul Hillier CDC 7 49960 2
Bild: Hans Memling, Christus mit musizierenden Engeln 1480


4 ˝ Ave Marias
Composer: Josquin Desprez (c.1440-1521); Fr./Flemish
alternate listings as: Josquin, des Pres; des Prez; DesPrez; Des Prez; Despréz , Jossequin Lebloitte dit Desprez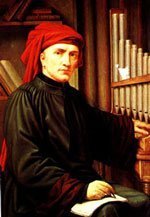 comment:
I have had a lot of problems sorting this out, because I did not have access to recordings or references in the early stages of this project. Several MIDI files on the Internet attributed to Desprez didn't seem to have any corresponding scores or recordings. Additional problem is that these MIDI files came without lyrics ...
I've figured these out:
X

Ave Maria SATB - file of unknown origin, listed as Desprez.
This is the Ave Maria part of #1, the Pater Noster-Ave Maria.

X
X
If you know of any other settings, please let me know.

Available on CPDL:

A biographical dictionary of musicians (ed. Theodore Baker)
G. Schirmer, 1905 - Biography & Autobiography - 695 pages


Depres Despres Josquin the greatest of the early Netherland contrapuntists born abt 1450 in Hainault Burgundy and possibly in the town of Conde where he died as provost of the Cathedral Chapter August 27 1521 His name was very variously spelled Despres Dcs prez Dcprh Deprel Deprez Desprels Dupr and by the Italians Del Praia Latinized as a Prato a Pratis Pratensis etc while Josquin contracted from the Flemish Tossekin little Joseph appears as Josse Jossien Jusquin Giosquin Josquinus Jacobo Jodocus Jodocit lus etc Josse Despres his epitaph reads Few details concerning his life are known It seems probable that he was a chorister and afterwards chorusmaster at St Quentin perhaps he was in de chap for a time at the Cath of Cambrai one of the towns claiming to be his birthplace He was doubtless a pupil of Okeghem premier chantre to Louis XL abt 1476 and he was a singer in the Sistine Chapel at the time of Pope Sixtus IV 1471 84 and was in Ferrara about 1488 with Isaack As a composer he was considered by contemporaries to be the greatest of his period so says Zarlino and Adrien Petit Coclius terms him princeps musicorum his works were sung everywhere and universally admired he was indeed the first to weave the mazes of Netherlandish counterpoint into expressive and beautiful art forms Publ works Masses in Petrucci's Lib I Venice 1502 L omme arme La sol fa re mi Gaudeamus Fortunata desperata L omme armc sexti toni idem II 1503 Ave Maris Stella Hercules dux Ferrara Malheur me bat Lami Baudichon Una niusque de Bus caya Dung aultre amor idem III 1 5 1 6 Mater patris Faysans regrets Ad fugam Di dadi De Beata Virgine Sine nomine these 3 books republ by Junta Rome 1520 in Graphaus Missae III Pangc lingua Da pacem Sub tuum praesidium some of these are scattered in other collections and fragments are found in still others and several more masses are in MS at Rome Munich and Cambrai Motets were publ by Petrucci Odhecaton 1501 5 and his books of motets Nos I 3 4 and 5 by Peutinger Liber selectarum canti onum 1520 and others of the period French chansons were publ by T Susato 1545 P Attaignant 1549 and Du Chemin 1553 In modern notation fragments of his works are to be found in the German liibliothek filr Kirchenmusik 1844 in Commer's Col Iectio operorum musicorum liatavorum Roch litz's Sammlung vorzltglicher Gesangsstttcke 1838 and Choron's Collection a Stabat Mater also in the histories byAmbros Forkel Kiesewetter Burney Busby and Hawkins

Page last modified: November 12, 2011
Return to my homepage: www.avemariasongs.org