Andreo, Dante - Ave Maria - 2005
for TTBarB a cappella
year of composition: 2005 / 1st publication: 2010
---
---
| PDF | MIDI | MP3 | VID | First name | Last name | Birth | Death | comp | ID # | Title | Voicing | Instrumentation |
| --- | --- | --- | --- | --- | --- | --- | --- | --- | --- | --- | --- | --- |
| 1 | 1 | 0 | 0 | Dante | Andreo | 1949 | | 1990 | | Ave Maria | SATB | a cappella |
| 0 | 0 | 0 | 0 | Dante | Andreo | 1949 | | 1992 | | Ave Maria | SA | piano, cello |
| 0 | 0 | 1 | 1 | Dante | Andreo | 1949 | | 2003 | | Ave Maria | SA | piano |
| 0 | 0 | 0 | 0 | Dante | Andreo | 1949 | | 2005 | | Ave Maria | TTBB | a cappella |
| 0 | 0 | 0 | 0 | Dante | Andreo | 1949 | | 2008 | | Ave Maria (Vocalia I) Femina I | SSMMAA | a cappella |
| 0 | 0 | 0 | 0 | Dante | Andreo | 1949 | | 2008 | | Ave Maria (Vocalia II) Femina II | SSMMAA | a cappella |
---
Available documentation:
Score:
not available (demo)
published by CM Ediciones musicales S.L. - Ref. editorial: CM.2.0258 ISMN: 979-0-69203-309-7
score available for purchase on THIS PAGE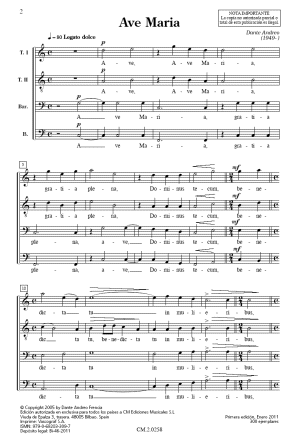 Lyrics:
(source)
| | |
| --- | --- |
| MIDI: not available | MP3: not available |

Recording: Video - posted on YouTube:
not available at this time
YOU could be featured here!
If you or your choir perform this Ave Maria, make a video recording. Post your video on YouTube, email me the page URL and I'll embed the video in this page.
Internet references, biography information:
Page last modified: November 16, 2013