Zwyssig, Peter Josef - Ave Maria
for SATB a cappella
year of composition / 1st publication: s.a.
---



Composer: Peter Josef Zwyssig (1814-1872)
Aliases, aka:
Country of origin / activity: Germany (Bavaria)
Text author: traditional
Arranger / Editor: N/A
---
Available documentation:
Score: free download available at http://www.muenster-musik.de/de/archiv/Zwyssig/
Lyrics:
A-ve, A-ve, a-ve Ma-ri-a, a-ve,
gra-ti-a ple-na, Do-mi-nus te-cum
be-ne-dic-ta tu, be-ne-dic-ta tu,
be-ne-dic-ta be-ne-dic-ta tu in mu-li-e-ri-bus,
et be-ne-dic-tus fruc-tus ven-tris tu-i Je-sus, Je-sus.





Sanc-ta, Ma-ri-a, Ma-ter De-i
o-ra pro no-bis, pro no-bis,
sanc-ta Ma-ri-a Ma-ter De-i,
o-ra pro no-bis pec-ca-to-ri-bus
nunc et in ho-ra mor-tis nos-trae,
mor-tis nos-trae,
a-men, a-men, a-men, a-men,
a-ve, a-ve Ma-ri-a, a-ve, a-ve.

Video - posted on YouTube:
Polyphony Ensemble from South Korea..
It is a male ensemble including counter tenor.
cjs0815 December 10, 2007
Internet references, biography information:
source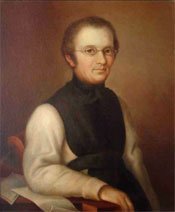 Peter Josef Zwyssig is the younger brother of Johann Josef Maria Zwyssig, (1808-1854) who was later known as P. Alberik (Alberich) Zwyssig and who wrote many Marian songs as well. P. Alberik Zwyssig composed in 1841 'The Swiss Psalm" with lyrics by Leonhard Widmer (1809-1867), now the national anthem of Switzerland.

Page last modified: November 26, 2013