Ave Maria
Composer: Tibor Pikéthy (s.a.), s.a.
performers: Vox Hungarica

Recording: not available
MIDI / Lyrics: not available
Score: not available

Posted on YouTube:

Vox Hungarica Női Kar - vezényel Dr. Döbrössy János
Adventi koncert az Érd Újvárosi katolikus templomban
2010 december 12

Pikéthy Tibor: Ave Maria
Vox Hungarica - Dr. Döbrössy János
http://www.choralnet.org/view/277170
The Vox Hungarica Female Choir was formed in 1989.
Its founding members had been singing in the Hungarian Radio's Children Choir. The most important of our aims is to propagate the Hungarian choral culture, to foster our national traditions, therefore we actively take part in the music life. As a result we are invited to several national and local events, festivals as well as concerts organized by the Association of Hungarian Choirs and Orchestras.
Our repertory includes church and secular works alike – from the Gregorians upto our days – as well as pieces of Hungarian composers.
The Hungarian Radio's programme "Podium of Choirs" had made studio recordings with us on several occasions.
On the national choral qualifications we have reached high grades; in 2007 we were given the Outstanding Concert Choir rating – the highest in our category. We gave concerts in several European countries. In 2008 we were invited to take part in the Alta Pusteria International Choir Festival (Italy), where we gave successful concerts alone as well as together with other ensembles.
Since its foundation the Vox Hungarica Female Choir has been led by conductor Dr. János Döbrössy, Head of the Music Department at the Elementary and Nursery School Teachers' Training College of the Budapest Eötvös Loránd University.
The Vox Hungarica Fermale Choir carries on its activity as a non-profit, self-financing association. Donations are highly appreciated.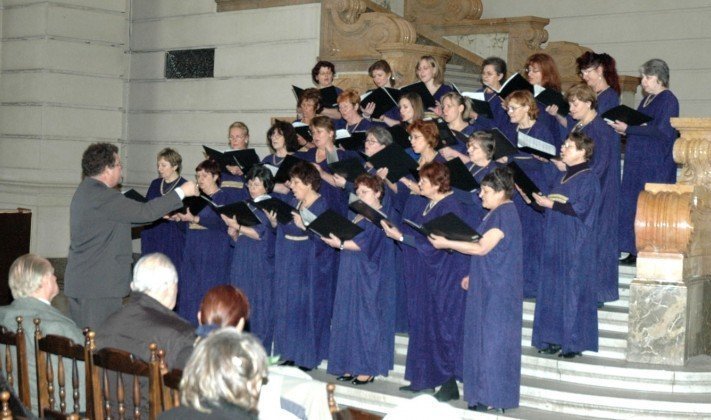 Internet references, biography information.




Please notify us of any broken/defective links

Page last modified: September 16, 2011
Return to my homepage: www.avemariasongs.org