Ave Maria 2 equal voices + organ
Composer: Juan Antonio Moreno Fuentes (1904-1987), s.a.

Recording: not available
Lyrics:
Dios te sal _ ve, Ma ri a,
lle na e _ res de gra _ _ cia,
el Se nor _ es con ti go,
y ben di ta Tu _ _ e res
y ben di ta Tu e res
en tre to das las mu je res
y ben di to es el fru to
de tu vien _ tre, Je sus.
San ta Ma _ ri a, Ma dre de Dios,
rue ga por nos o _ tros
pe ca do _ _ _ res
rue ga por _ nos o tros
por nos o tros pe ca do res
a _ ho ra y_en la ho ra
de nues tra muer te._A men,
Je sus.
Score:



My thanks and appreciation to
Xulio Mosquera - Arquivo Coral
for sending me this score

Posted on YouTube: Not available at this time.

You could be featured here!


If you (or your choir) perform this Ave Maria, make a video recording. Post your video on YouTube, email me the page URL and I'll embed the video in this page.


You can also email me an MP3 for audio only.

biography information.
Juan Antonio Moreno Fuentes (1904 – 1987) nace en Arenas de San Pedro (Ávila). Con moi pouca idade comeza a estudar música tocando na Banda Municipal. Aos trece anos ingresa no Seminario de Comillas, onde cursa os estudos eclesiásticos. Alumno destacado dos Pais Otaño e Ignacio Prieto sj., xa de seminarista é profesor de música, organista e axudante de dirección da Schola Cantorum. É chamado para o cargo de Mestre de Capela para as catedrais de Mallorca, Granada, Guadix, e por fin, recala en Lugo, onde en 1943 consegue, previa oposición, a prefectura de música da Catedral. Reorganiza a Schola Cantorum do Seminario. No ano 1947, previa oposición, é nomeado Cóengo Maxistral da Catedral, labor que desempeñará ata o seu pasamento en 1987. Foi destacado orador, director de coros, e compositor de numerosas pezas musicais, conservadas case todas no Arquivo de Música da Catedral lucense.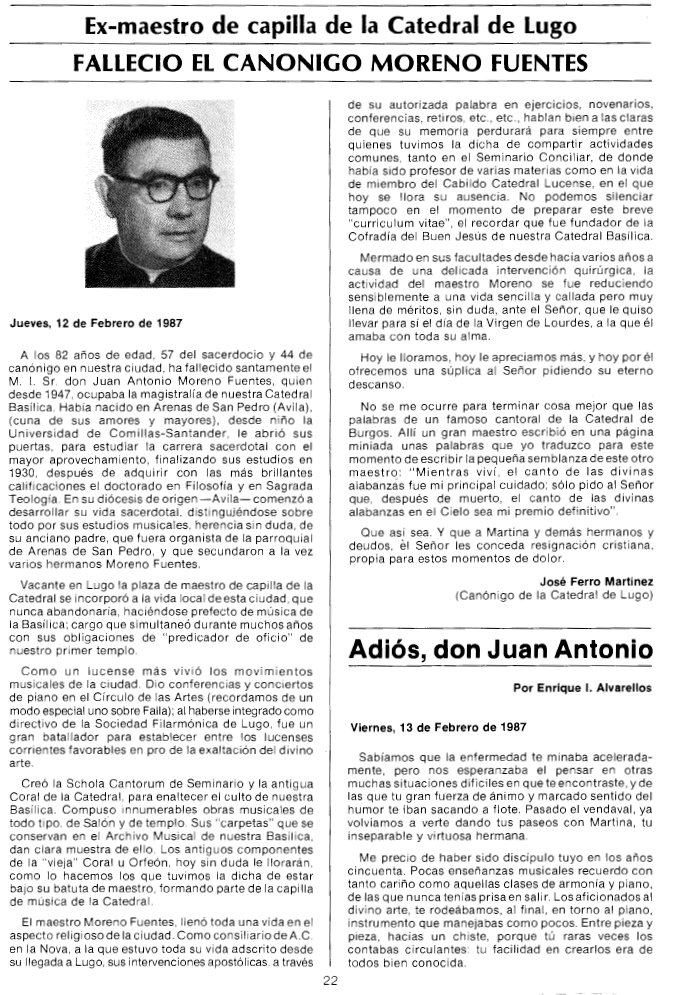 My thanks and appreciation to
Xulio Mosquera - Arquivo Coral
for sending me this documentation




Please notify us of any broken/defective links

Page last modified: October 31, 2011
Return to my homepage: www.avemariasongs.org