Ave Maria SSAATTBB + harp / piano
adapted to 'Adagietto' from Mahler's Symphony No.5
Composer: Gustav Mahler (1860-1911), 1901
arr: Adrian Conell (s.a.), 2007
| | | | | | |
| --- | --- | --- | --- | --- | --- |
| | | | | | AveWiki link |

Mahler - Ave Maria (1901) - choir (with or without keyboard) by Gustav Mahler arr. Adrian Connell
For many years whenever I have heard the Adagietto from Mahler's Symphony No.5 I have felt it would make a beautiful Ave Maria. Finally this year I sat down with the score and realized that the words would indeed fit all the way through. I therefore went ahead and made an arrangement for double choir with harp. However the probability of a choir having a harp readily available means that the work should also be played by piano. The transcription is note for note based on Mahler's original. I have had to take one section down the octave and I think split just one note from a crochet into two quavers just to fit the words at one point. While needing good sopranos and good second basses this arrangement aims to be as practical as possible while following the original. Hopefully this arrangement will enjoy a good life when you think of the Elgar Lux Aeterna (Nimrod) and the Barber Agnus Dei (Adagio for Strings) and the fame they have achieved. Adrian Connell

Recording: not available

CD Illumina
tr01 Gustav Mahler arr. Adrian Connell
Ave Maria (Adagietto from Symphony No. 5)

Recorded in St Michael's Church, Summertown, Oxford, July 2010 and March 2011 - Released April 2012
Decca 2758053



MIDI / Lyrics: not available
Score: used to be available on Sibeliusmusic.com - this 'Ave Maria' arrangement now published by Doblinger.



The original (instrumental) score is available as a free download on IMSLP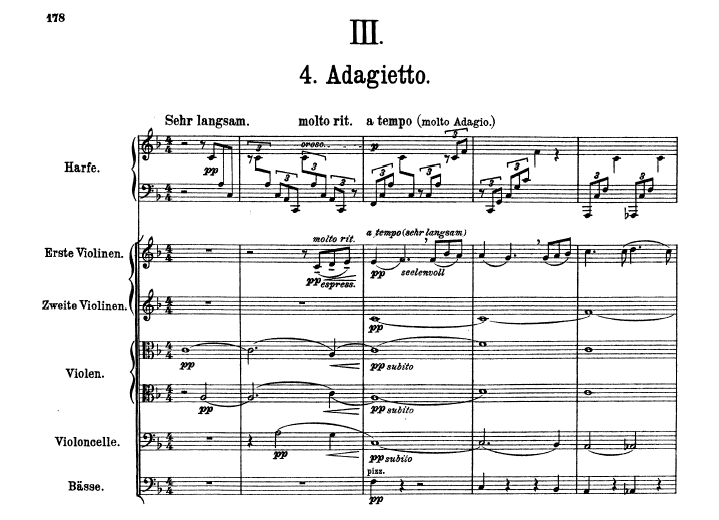 Posted on YouTube:
Some videos of the Adagietto from Mahler's Symphony No.5.
It may give an idea what this is supposed to sound like.

Page last modified: November 21, 2012
Return to my homepage: www.avemariasongs.org