Ave Maria
Composer: Teja Lewandrowski (*1966), 2004

Recording: not available
Lyrics: not available, see score.
Score: can be purchased on the publisher's website: http://www.ph-publishers.com/
©2010 Porfiri & Horváth Publishers (Germany). All rights reserved.
Reproduction of this publication without permission of the publishers
is a criminal offence and subject to prosecution.


The publishing house founded in 1997 as Edition Music Contact has changed its name in April 2010 into Porfiri & Horváth Publishers.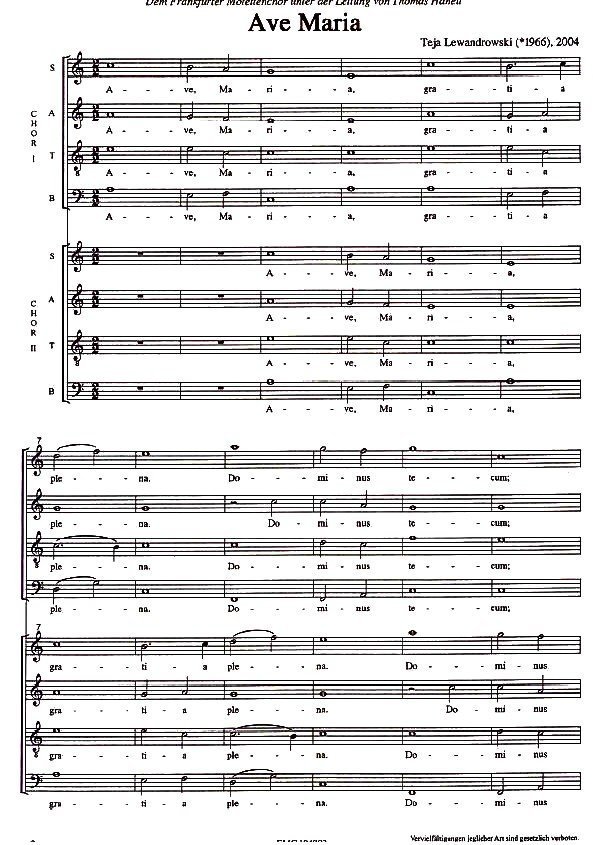 My thanks and appreciation to
Kristine Görtz - Porfiri & Horváth Publishers (Germany)
for sending me this score.

Posted on YouTube: Not available at this time.

You or you choir could appear here!


If you or your choir perform this Ave Maria, make a video recording and post it on YouTube. If you let me know that you have the video, I'll embed the video in this page.


You can also email me an MP3 for audio only.

Biography information provided by the publisher Porfiri & Horváth
Teja (Tell-Maria) Lewandrowski – born 02.12.1966 in Berlin - private piano, music theory and aural training lessons since the age of 7, A-level in 1985 – first attempts in composing - 1988-1993 studies at the Humboldt University in Berlin (music and history (teaching degree) - 1993 diploma – working as an arranger for different ensembles – degrees in piano, tone motion, choir conducting – participation in several choir conducting workshops; further private studies in the field of composition - since 1995 music teacher in Berlin – conductor and arranger of the Brandenburg State Youth Choir.




Please notify us of any broken/defective links

Page last modified: November 07, 2011
Return to my homepage: www.avemariasongs.org