Ave Maria from radio play "Ave Maria"
Composer: Hugo Gyldmark (1899 - 1971), 1949
aka. pseud. Sid Merriman
lyrics: Fra Kay Rostgaard-Frøhne

Recording: not available
Original lyrics:
1,
Hjertet må banke, salige tanke!
Himmel, jeg elsker og elskes igjen!
Ydmykt jeg kneler, stille besjeler
andakt mit Sind hvor jeg vender meg hen.

Elskovens höjsang, jublende skjönn,
fylder mit öre under min bönn.
Ave Maria, Ave Maria!
Lykke og lyst er de elskendes lönn!

2,
Inn i en prektig, hvelvet og mektig
helligdom, elskovens höjsal, jeg går.
Hvert blikk du sender, alterlys tender,
klare som kaerter de strålende står.

Og som en salme er dine ord,
fra et livsaligt, södmefyldt kor.
Ave Maria, Ave Maria!
Fromt jeg på kjaerlighetsunderet tror.

3,
Ut i den sene nat vil jeg ene
gå med mitt blikk opp mot stjernerne vendt.
Nathimlens fjerne klareste stjerne
i mine drömme for meg kun er tendt.

Gjennem naturens kjaerlighetssang
hörer jeg klokkenes milde klang.
Ave Maria, Ave Maria!
Dejlig er elskovens altergang!

Score:
play/stop MIDI: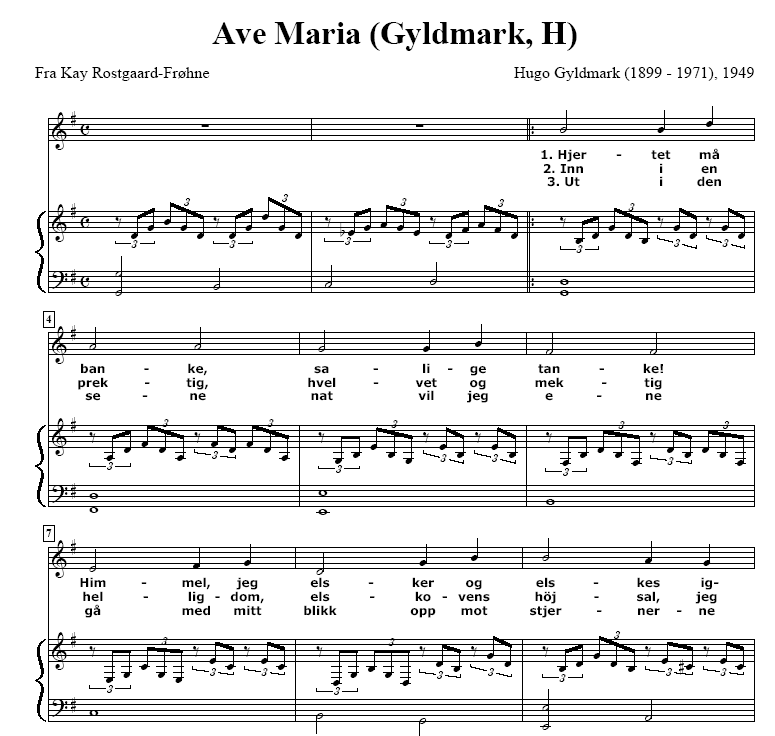 My thanks and appreciation to
Ann-Katrin Hegvold
for sending me this score and these lyrics.

Lyrics: (English)
Pray'r in the twi-light, Deep sha-dows fall,
Tell-ing my heart To sur-ren-der its all.
Hushed is the ev- 'ning, Bells gent- ly chime,
Call- ing the world,
Far be- yond space and time.


Way up to Heav- en Floats ev- 'ry plea,
An- gels are sing- ing Soft- ly with me:
A- ve Ma- ri- a, A- ve Ma- ri- a.
Pray'r in the twi- light, In sweet rev- er- ie.
A- ve Ma-ri-a.


Score: English text lyrics publ. Keith Prowse & Co, London


Internet references, biography information.


Please notify us of any broken/defective links

Page last modified: April 29, 2012
Return to my homepage: www.avemariasongs.org