Ave Maria
Composer: Michael McGlynn (*1964), 1991

Recording: not available
Lyrics: not available
Score: can be obtained through the composer's website.
play/stop MIDI: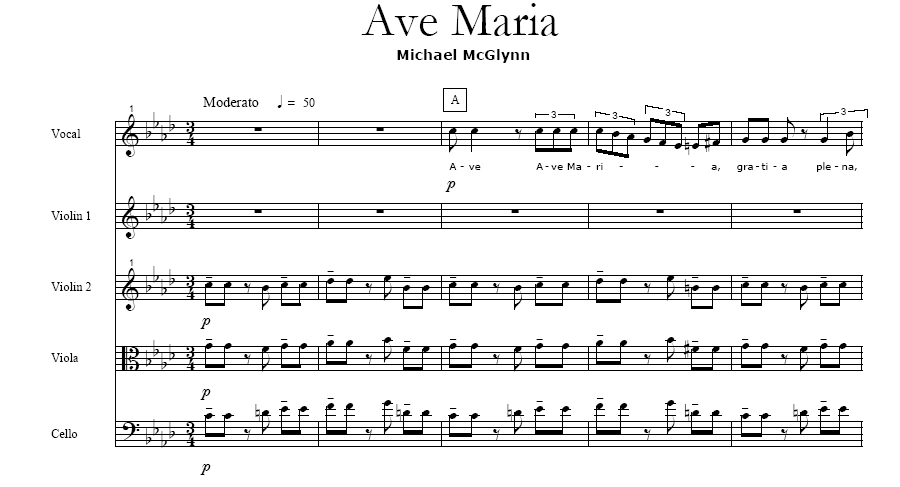 My thanks and appreciation to
composer Michael McGlynn
for sending me this score.

Posted on YouTube:
Uploaded by brezairola on Feb 10, 2012

From Michael McGlynn's "Celtic Mass".
Featuring the Ulster Orchestra, leader Lesley Hatfield, from the album "Behind the Closed Eye" by Anúna. From the DVD "Invocations of Ireland" by Anúna, available from the STORE @ www.anuna.ie.
Sheet music also available from www.michaelmcglynn.com .


Internet references, biography information.
http://www.michaelmcglynn.com/MichaelBiography.html
Michael McGlynn was born in Dublin in 1964. His harmonic language combines elements of traditional Irish music such as modal melodic lines and ornamentation, fixed and shifting drones and jazz-tinged chordal clusters. These features can be heard in his contribution to the Chanticleer commissioned "And on Earth Peace : A Chanticleer Mass". Michael contributed the "Agnus Dei" (2007) to this multi-composer work.

His best-known choral work is "Dúlamán" (1995), a setting of the traditional Irish poem of the same name. This work has been performed and recorded extensively. It features another characteristic aspect of his musical language in its use of multiple alternating rhythms.

Michael McGlynn's music has been recorded and performed by such internationally recognised vocal ensembles as Rajaton, the National Youth Choir of Great Britain, The Dale Warland Singers, Conspirare, the BBC Singers, the Phoenix Chorale and Chanticleer.

In 1987 he founded the Irish choral group Anúna. Anúna have released fourteen albums, almost exclusively featuring his arrangements and original works. Three of these, "Anúna" 1993, "Celtic Origins" 2007 and "Christmas Memories" 2008, have featured in the US Billboard Charts while "Deep Dead Blue" was nominated for a Classical Brit Award in 2000 and went top five in the UK Classical Charts.

Although best known as a writer of choral music, Michael McGlynn has written orchestral and instrumental work. "Behind the Closed Eye", written for the Ulster Orchestra has been highly successful as a CD release, and in 2009 the RTÉ National Symphony Orchestra presented an entire evening of Michael's orchestral output at Dublin's National Concert Hall. "Visions" for saxophone and piano has also been successful.

Michael is much in demand as a vocal coach, specialising in work with choral groups. He was a guest-judge and vocal advisor on Finland's version of the X Factor in 2010. In 2011 he led workshops in the USA, Poland, Japan and Sweden, and in the latter part of 2012 he will undertake a major workshop series across the Netherlands. In July 2011 he stewarded the first Anúna International Summer School at Dublin's National Concert Hall. In November of 2011 he adjudicated at the International Early Music Vocal Competition Canticum Gaudium in Poznań, Poland..He is currently an Eminent Scholar of Florida Atlantic University for the 2011/12 academic year.

This summer he begins work on a new commission for Chanticleer based on some of the legends associated with the Blasket islands for premiere later this year. The Anúna album Smidiríní will be released in June and features a selection of his music and arrangements specially recorded for the 25th Anniversary of the group. Also that month marks the first recording of his complete "Celtic Mass" by The Taylor Festival Choir, conductor Robert Taylor.

Michael is a film-maker, with his debut self produced and directed film "Invocations of Ireland" being broadcast across Australia and New Zealand in 2010 on the Ovation Channel, and released on DVD in Australia [DV1] and Japan [Columbia]. He has produced all fourteen Anúna albums. He lives in Dublin with his family where his interests include sea swimming, horse riding and procrastination.



Please notify us of any broken/defective links

Page last modified: January 22, 2013
Return to my homepage: www.avemariasongs.org