Ave Regina coelorum antiphon for 3 or 4 voices
Ave Marias Stella
Composer: Guillaume Dufay (c1400-1474)

These are not a true Ave Marias.
Ave Regina Coelorum a3
Recording: not available
Lyrics:
source: CPDL
Ave Regina coelorum,
Ave Domina Angelorum:
Salve radix, salve porta,
[or Salve, radix sancta,]
Ex qua mundo lux est orta:
Gaude Virgo gloriosa,
Super omnes speciosa,
Vale, o valde decora,
Et pro nobis Christum [semper] exora.
Alleluia.
Hail, Queen of the heavens,
Hail, ruler of the angels:
Hail, root, hail, portal
[or Hail, holy root]
From whom light has shone to the world.
Hail, Virgin most glorious,
Beautiful above all,
Farewell, O most comely,
And pray [always] to Christ for us.
Alleluia.
Score:

manuscript (high voice)





a modern transcription.

play/stop MIDI:



score by edited by Guido Gonzato at Werner Icking Music Archive; also available on CPDL

My thanks and appreciation to
Alain Naigeon
for also sending me a modern notation transcription of this song.


Ave Regina Coelorum III (a4) (also available on CPDL)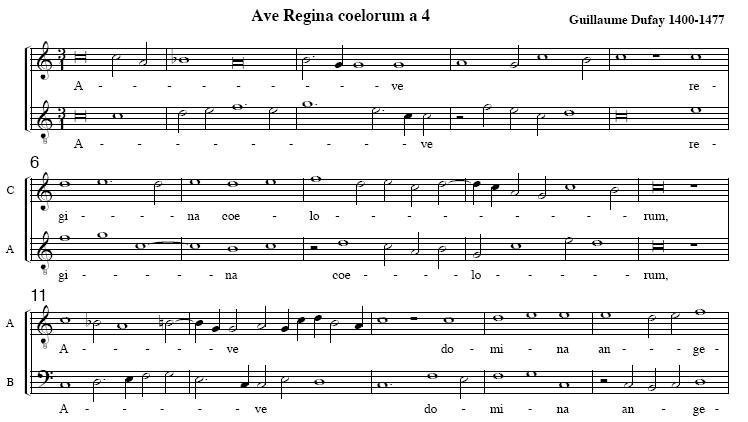 A biographical dictionary of musicians (ed. Theodore Baker)
G. Schirmer, 1905 - Biography & Autobiography - 695 pages
Dufay Guillaume famous French contrapuntist b abt 1400 d Cambrai Nov 27 1474 being the most recent in the distinguished triad Dunstable Binchois Dufay In 1428 he became a chorister in the l apal Chapel and in 1437 entered the service of Philippe le Bon Duke of Burgundy he took holy orders in Paris lived seven years in Savoy and finally became a canon at Cambrai According to Adam of Fulda I made many changes in notation he is the reputed inventor of white open notes Fr X Haberl in the 4th book of the Vierteljahrsschrift fuer Musik-Wissenschaft 1885 gives a list of 150 comp s found in the libraries of Rome Bologna and Trieste incl masses finished and fragmentary motets a magnificat other church mus French chansons etc Other MSS are in the libraries at Paris, Brussels, Cambrai and Munich

Page last modified: November 12, 2011
Return to my homepage: www.avemariasongs.org