play/stop MIDI:

(1)
A-ve Ma-ri-_-a, Gra-ti-a ple-na!
So grues-ste der En-gel die Jung-frau Ma-ri-a,
da er von dem Herm _ die Bot-schaft 'bracht.

(2)
Sie-he du sollst ei-nem Sohn _ em-pfan-gen,
da-nach tra-gen Him-mel und Er-de Ver-lan-gen,
dasss du _ die Mut-ter des Herrn sollst sein.

(3)
Ma-ri-a hoert _ des Hoech-sten Be-geh-nen.
Sie sprach: _ "Ich bin _ die Magd _ des Her-ren,
nach dei-_-nem Wort _ ge-sche-he mir."

(4)
Nun woll'n wir dan-_-ken
prei-sen und lo-ben, den Herm _
im Him-mel so hoch _ da dro-ben
dass we _ uns al _ er-loe-set hat.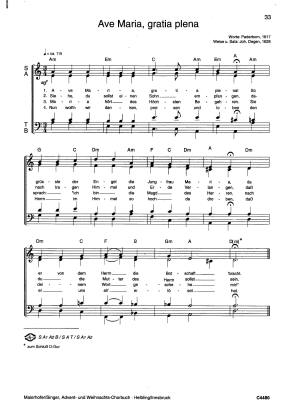 My thanks and appreciation to
Steirische Volksliederwerk
for sending me this score.