Anthiome, Eugene - Ave Maria
for {voicing} and {Instrumentation} unknown
year of composition / 1st publication: 1855 + 1859 (ref
page
)
---



Composer: Eugene Anthiome (1836-1916)
aliases, aka: Eugène Anthiome; Eugène-Jean-Baptiste Anthiome
Country of origin / activity: France
Text author: traditional
Arranger / Editor: N/A
---
Available documentation:
Score:
not available
My thanks and appreciation to
...
for sending me this score.
Lyrics:
(source)
| | |
| --- | --- |
| MIDI: not available | MP3: not available |

Recording:
Video - posted on YouTube:
not available at this time
YOU could be featured here!
If you or your choir perform this Ave Maria, make a video recording. Post your video on YouTube, email me the page URL and I'll embed the video in this page.
Internet references, biography information:
http://fr.wikipedia.org/wiki/Eugène_Anthiome

Eugène-Jean-Baptiste Anthiome
Naissance 19 août 1836 Lorient, Royaume de France Décès 24 juillet 1916 Versailles, France
Activité principale Compositeur Style Musique classique
Activités annexes Professeur
Lieux d'activité Paris
Formation Conservatoire de Paris
Maîtres Antoine Elwart, François Benoist, Michele Carafa
Enseignement Piano
Élèves Maurice Ravel

Eugène-Jean-Baptiste Anthiome (* 19 août 1836 à Lorient; † 24 juillet 1916 à Versailles) était un compositeur français. Anthiome étudia au Conservatoire de Paris l'Harmonie avec Antoine Elwart, l'orgue avec François Benoist et la composition avec Michele Carafa. En 1861 il remporta le Second Grand Prix de Rome avec sa cantate Atala. À partir de 1863 il enseigna au Conservatoire ; plus tard il y fut nommé professeur de piano, poste qu'il conserva jusqu'en 1901. En 1889 il eut Maurice Ravel comme élève, en classe préparatoire de piano. Anthiome écrivit nombre de pièces pour piano, des opérettes ainsi que des mélodies. Il écrivit aussi une méthode de piano (L'Art du piano, méthode pour les commençants, Paris 1880).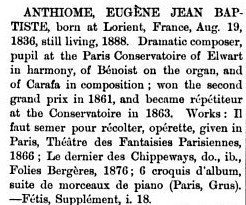 Page last modified: August 17, 2013