Alba, Alonso - Ave Maria
for SATB a cappella
year of composition / 1st publication: s.a.
---



Composer: Alonso de Alba ( ? -c.1519)
aliases, aka: Alonso Perez de Alba (Alva); Alfonso Perez de Alba,
Country of origin / activity: Spain
Text author: traditional
Arranger / Editor: N/A
---
Available documentation:
Score:
not available
My thanks and appreciation to
...
for sending me this score.
Lyrics:
(source)
| | |
| --- | --- |
| MIDI: not available | MP3: not available |

Recording:
Video - posted on YouTube:
Internet references, biography information:
http://www.hoasm.org/IVL/Alba.html
Late fifteenth early sixteenth century Spanish composer. A singer at the Court of Queen Isabella from 1491, he is represented in the Cancionero de Palacio, and also wrote a quantity of sacred music. Twenty liturgical pieces are known, notably five motets, a mass and six hymns.

The Church Music of Fifteenth-Century Spain By Kenneth Kreitner (2004)
There are two Spanish composers with the same name Alonso de Alba: One died c.1514, the other between 1516 and 1529.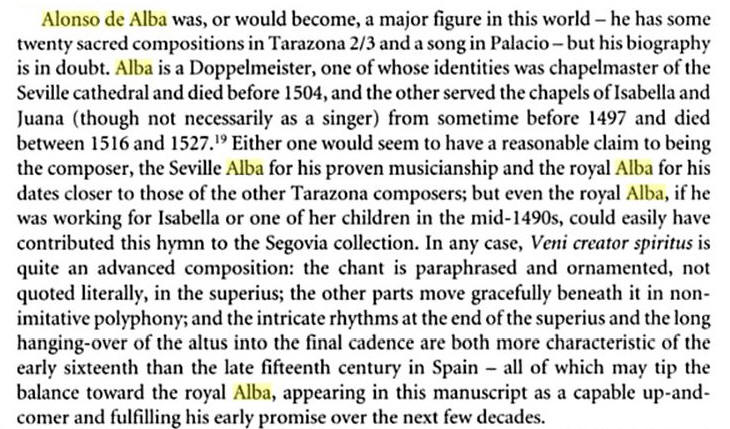 Page last modified: August 17, 2013