Adalid, Marcial - Ave Maria
for mezzo-soprano solo and piano or organ
year of composition / 1st publication: c1880
---
---
Available documentation:
Score:
free download
available from (BNE)
Lyrics:
(source)
| | |
| --- | --- |
| MIDI: not available | MP3: not available |

Recording:
Video - posted on YouTube:
not available at this time
YOU could be featured here!
If you or your choir perform this Ave Maria, make a video recording. Post your video on YouTube, email me the page URL and I'll embed the video in this page.
Internet references, biography information:
Article in "Art song composers of Spain: an encyclopedia.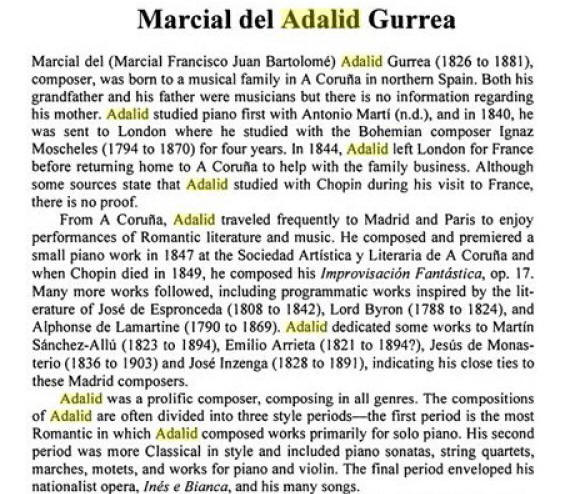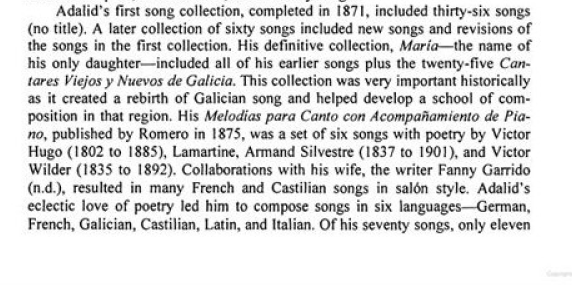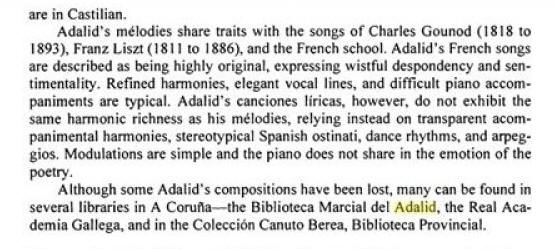 http://ca.wikipedia.org/wiki/Marcial_del_Adalid
Marcial del Adalid (La Corunya, 24 d'agost de 1826 – Lòngora, Oleiros, 16 d'octubre de 1881) fou un compositor de música gallec.
Començà els estudis musicals a la seva ciutat natal, i d'allà passà a Londres on estudià sota la direcció del mestre Moscheles, i en retornà a Espanya composà una opera titulada Inese e Bianca, que no assolí veure representada ni a París ni a Madrid. La seva música participa a un temps del caràcter que imprimeixen les bromes angleses i del brillant sol d'Espanya, segons diu un dels seus biògrafs. És autor de tres series de Cantares nuevos y viejos de Galícia, titulats A mi Maria, inspirats en la música popular d'aquell país, que li van fer conquerir envejable reputació, i composà a més, diverses obres, que li donaren fama de músic intel·ligent.
Page last modified: August 17, 2013