Abril, Anton Garcia - Ave Maria
for SSAATTBB a cappella
year of composition: 1964
---



Composer: Anton Garcia Abril (*1933)
aliases, aka: Antón García Abril
Country of origin / activity: Spain
Text author: traditional
Arranger / Editor: N/A
---
Available documentation:
Recording:
Play / stop mp3-sample


CD: Oratio: 20th Century Sacred Music

Lyrics:
A ve Ma ri a gra _ tia ple na,
Do _ mi nus te cum,
be ne dic ta tu in mu lie ri bus,
et be ne dic _ tus,
Fruc tus ven _ tris tui Je sus.

Sanc ta Ma ri _ _ _ a, Ma ter dei _ _ _
Ma ter dei, _ Ma ter, dei, _ _ _ _
o ra pro no _ bis pec ca to ri bus,
nunc et in ho ra mor tis nos trae,
nunc et in ho ra mor tis nos trae.
Aa men

Score: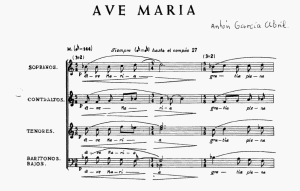 My thanks and appreciation to
Xulio Mosquera - Arquivo Coral
for sending me this score.

Video - posted on YouTube:
not available at this time
YOU could be featured here!
If you or your choir perform this Ave Maria, make a video recording. Post your video on YouTube, email me the page URL and I'll embed the video in this page.
Internet references, biography information:
http://en.wikipedia.org/wiki/Antón_García_Abril

Antón García Abril (born 19 May 1933 in Teruel) is a Spanish composer and musician.

Biography
Between 1974 and 2003, he was the head of the department of Compositions and Musical Forms (Composicion y Formas Musicales) of the Real Conservatorio Superior de Música in Madrid, and in 1982 he was elected a member of the Real Academia de Bellas Artes de San Fernando in Madrid. In 1994, he was awarded Spain's Premio Nacional de Música for composition, and in 2008, he was also named a member of the Real Academia de Bellas Artes de San Carlos in Valencia.
Works
Anton Garcia Abril has composed as many orchestral works as he has chamber and vocal pieces, and he has composed music for movies and television series such as El Hombre y la Tierra, Fortunata y Jacinta, Anillos de oro, El perro, Segunda ensenanza, Brigada Central, Ramon y Cajal, and Compuesta y sin novio.
In 1966, he created the soundtrack for the Texas movie Adios, a spaghetti western starring Franco Nero. Also, in 1969, he worked alongside Rafael Romero Marchent, a film director from Madrid, on the sound track of the movie Manos torpes, another spaghetti western. He also composed the music for Amando de Ossorio's Blind Dead series of films, being La noche del terror ciego (1971), El Ataque de los muertos sin ojos (1973), El Buque maldito (1974), La Noche de las gaviotas (1975).

Page last modified: August 17, 2013